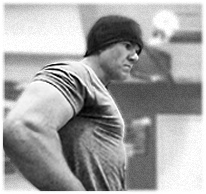 The One and Only Way to Truly Strengthen Core Muscles!
First of all, in order for you to build strong core muscles you have to understand exactly what your core is and how it functions. A true core muscle workout is designed by implementing exercises that incorporate big body movements through working multiple joints and multiple muscles at one time.
So lets define your core. Many terms and variations have been used to describe your core. Some people refer to it as only your abs, some your hips, and others a combination of both. The true human core incorporates all of these and more. I like to refer to your core as being your true center of gravity. Basically if you remove your extremities (arms and legs) everything left over could qualify as your core center.
The cool thing is that every human movement starts from the center and moves outward. This is why the best exercises to train and develop a strong core involve things such as kettlebell swings, squats, and deadlifts. All of these movements cause your core to tension and stabilize your body. There is no specific "isolation" of any one single muscle group, but rather a chain of many muscle groups working together. This is the truly most effective way to train your core center. So if you are wanting to strengthen your core muscles you must get used to using your body as a whole.
If you want to develop a truly strong core and develop total body fitness this is the REAL way to do it. Don't sweat the small isolation lifts. Work with the big muscle groups and get acquainted with the kettlebell. Remember there is training hard and then there is training smart my friend. Which would you rather do?