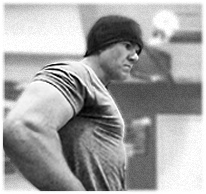 Kettlebell Dominance – The Absolute No Contest Best Workout For Strength!
Workout your muscles to be fit and strong or don't do it at all! I'm sure you agree that there are many forms of weight lifting, but when it comes down to building serious strength, kettlebell training dominates!
You can't train your body using any other style with so much mobility, and applied resistance through movement, the way you can with a properly implemented kettlebell training program. This is the absolute best workout for bodybuilding and developing superior strength. Kettlebell training is no doubt the best workout to build muscle while training your body to have the conditioning, mobility, and fitness that lasts way beyond what any other form of training or supplementation could ever provide.
This "no contest" method to strength has been field tested and proven for over three centuries by the world's best strongmen and athletes. That is a product testimony if I have ever heard one. This ancient style of training combines both strength and skill and does not only assist you with forging the perfect body, but completes your entire being by forcing you to actually use and sharpen your mind. This is a workout to forge dominant strength and create dominant individuals who are serious about fitness. Kettlebell exercise is also great for assisting you in every other aspect of your fitness ranging from endurance, flexibility, and resiliency in addition to gaining unmatched strength.
If you wanted to know about the best workout for strength then you have found it here with kettlebell training. To learn more details about how to implement this ancient form of strength and skill feel free to access the rest of my articles here. Remember that anyone can train hard, but only the best train smart!