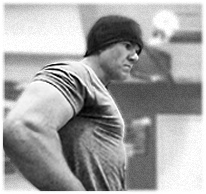 Blazing Fast – The Best Strength Workout For Speed is Right Here!
Your workouts should be explosive strength workouts if you are going to develop blazing speed on the field of play. Athleticism is a trait that can only be improved based on the effectiveness of your workouts. As a professional strength and conditioning specialist I can think of no better lift for speed and power than the overhead kettlebell snatch.
You have probably heard of this ancient strength and conditioning tool known as the kettlebell and realize that this device has forged some of the world's greatest athletes. The single arm overhead snatch is a lift that you can perform with this device that is a sure way for you to achieve a body that is reactive and full of explosive energy. This single exercise promotes the strength of your core, elevates your hip power, and gives you the shoulder strength to withstand and dish out most any level of punishment. All of these elements combine to give you overwhelming speed and velocity for any athletic task.
The overhead snatch is performed by you having to lift the kettlebell from either the floor or between your legs up to a held position above your head. This movement should be smooth and forceful. To to do this successfully you must first understand and implement a technique in kettlebell training known as the hip snap. The hip snap is done by you forcefully flexing and then extending at both your hip and knee joints to generate the necessary force to elevate the kettlebell to a high position lateral to your head. At this high pull position your body must be truly "locked out" and you must lean into the bell as your cock your arm back at the shoulder and elbow. Once the bell is at this "high pull" spot it should be weightless for a fraction of time. At this peak when the bell is weightless you must complete the snatch lift by vertically punching your palm towards the sky extending your elbow and locking your shoulder securely into the socket.
Take the time to properly learn the technique involved in the overhead snatch if you are serious about building blazing fast speed and athleticism. This explosive power workout is sure to change your physical nature forever! Remember that anyone can train hard, but only champions train smart my friend.