90 Day SGPT MMA Strength and Conditioning
Finally a top notch training guide to get you leaner, stronger, and more functional for your MMA and fitness needs! 
I know you've been disappointed because I know you've been discouraged about your progress. You feel like you should be progressing faster in your martial arts and fitness, but you just haven't…at least not to where you thought you would be. You're not sure how to train to get stronger because you don't want to build unnecessary size, but you still have to move well. You're also frustrated and tired of your conditioning not being up to speed!
I know you want to be better. You deserve to be better. 
So you don't have to worry anymore!
With this program I will improve your total body strength, overall movement, speed, footwork, reaction time, coordination, and overall conditioning for MMA, striking, and grappling. Read below to learn more…


Now 180 Day Training Special Discounted Bundle Offer! 
Now you can get 4 training programs at a complete discount!  
Bundle includes 30 Day Introductory Bodyweight Workouts, 30 Day Introductory Kettlebell Workouts, 30 Day Introductory HIIT Workouts, and 90 Day MMA Strength and Conditioning Program!
Each 30 Day Program Is Normally $19.97. Now Only $11.97 Each With Bundle!
Only Available For A Limited Time!
Total For All Programs Is Normally $99.88 Now $75.00!

Introducing Brandon Richey 90 Day MMA Strength and Conditioning Program
This program contains 90 MMA Strength And Conditioning workouts developed by myself and Coach Brad McLeod together for optimal fight performance. The program is comprehensive because I teamed with SEALGrinderPT to put this program together with the goal of creating the best program for fitness and fight performance that you can find on the web. 
This program will step by step walk you through 90 workouts to progress your fitness and performance for fighting, athletic development, and fitness. The program contains an introduction which will explain the training plan. You will then follow the 90 days of training to improve your MMA fitness. As a result of this you'll be better able to perform the following with a SUPERIOR physical ability and CONFIDENCE…
Faster and more powerful strikes

Faster and quicker feet

Increased work capacity to improve sparring with less fatigue

Increased work capacity to improve grappling with less fatigue

Better mobility of your joints to alleviate tightness, stiffness, and soreness

Improved athleticism

Improved fitness for faster recovery

Speed development

Agility development

Power deveopment

Enhanced hand/eye coordination

Enhanced reaction time

And much, much more!
MMA Strength And Conditioning workout comes complete with:
Warm Up

Conditioning

Strength or Cardio

Custom SuperSets!

Cool Down
I will walk you through a complete 3 month training system designed to you GET RESULTS!! I developed this program over a 17 plus year career training fight athletes in MMA, Muay Thai, Jiu Jitsu, and many other disciplines.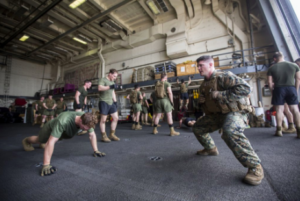 Take your training to the next level with this exclusive eBook from Brandon Richey Fitness & SGPT Online! Over 70 Pages of information involving 90 workouts, fighter interviews, a complete video bank, product recommendations, training and much much more. After following this program you will get you into the best shape of your life!
This eBook is jammed packed with information about properly training for MMA, Jiu Jitsu, Combatives and More!
We've included movement definitions, how to videos and tons of extras!
Like all my programs this comes with a 30 Day 100% money back guarantee! I will give you a refund if you are not satisfied after the training! The program will be delivered to you as a downloadable PDF to the email you provide.
Take your training to the next level with this exclusive eBook from me Online!
Take your training to the next level with this exclusive eBook from me Online!
MMA Strength And Conditioning 
Disclaimer: 
Upon your purchase and your start of the use of this program you acknowledge that you and you alone are completely and fully responsible for the applications of the movements provided and that if you become injured, sick, disabled, or even dead that Brandon Richey Fitness LLC, or any and all related parties are not responsible.  You acknowledge that you and you alone are completely and fully responsible for all risks involved in this exercise program.
Before you begin this exercise program you must get your physician's approval because you need to address any medical condition, or injury. This is important because you need to identify anything that could be contraindicated with physical activity. I recommend this program for healthy individuals 18 years and older. These recommendations are not medical guidelines but are for educational purposes only so it's important that you take responsibility.