Introducing Reliv Nutrition Supplement Line
Now you can get all your nutritional supplement needs here consisting of performance, recovery, joint health, vitamins, energy, protein, and much much more! 
As a strength and conditioning coach I've had the fortunate opportunity to work with a variety of different athletes. My career has involved training everything across the spectrum involving the sport of football, to fighters, to figure skaters. With this experience I'll say there's been no shortage of supplement companies with offers to come down the pipeline. I've had many reps to reach out to me trying to get me to promote their product lines.
The truth is that there are a lot of junk supplements that exist in the marketplace. I have never personally endorsed supplements in the past because there are so many false claims on things in the industry. Truthfully there's just a lot of junk out there in the supplement world. As a result of this my attention shifted to the Reliv Nutrition supplement line and this is how it started.
Reliv Nutrition: Jeff's Story
In the past couple years one of my long time strength students, Pro Thai Fighter, and really good friend Jeff Perry (pictured above) had to overcome some tremendous odds. Stage 4 Non-Hodgkin Lymphoma was his diagnosis. This awful disease required the most aggressive form of chemo.
The chemotherapy treatment that was given to Jeff was in a backpack which was attached to a pump that was on a timer. His chest had a port surgically placed into it. The pump delivered the medicine directly to his heart. This was unbelievable.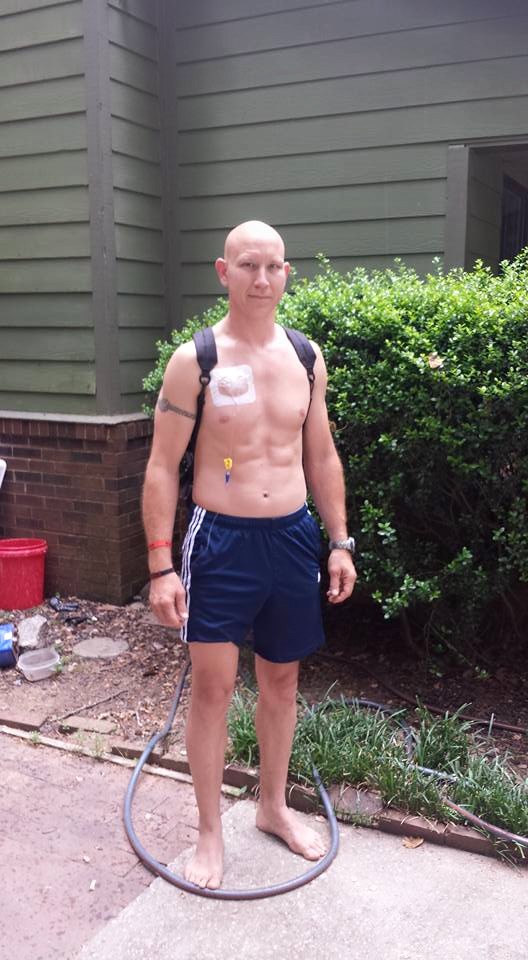 As amazing as this was the more amazing thing was Jeff's attitude because he always keeps a calm cool demeanor. So after Jeff temporarily lost his hair you would not have known he was going through something like cancer. Everyone may know about Non-Hodgkin Lymphoma, but not everyone knows Jeff.
You see he's a fighter for a reason. I had the fortunate opportunity to design his strength and conditioning program back in 2003 where he fought, won, and retained his title against the #8 ranked Thai fighter in the world at that time.
You see Jeff was number 6 in the world in Muay Thai for the 155 lb. weight class and was the US National champion. That's right, this guy is a machine.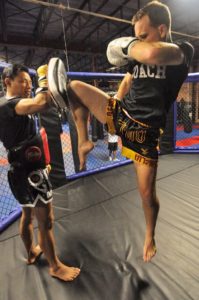 Jeff is one of the nicest and most genuine people you'll ever meet, but he's also a fighter.
Because Jeff dialed in his fitness and nutrition he built some momentum. So for additional help he leveraged the power of the Reliv Now Nutrition supplement. Consequently, this was recommended by a mutual friend and as a result the Reliv Nutrition line helped him to optimize his nutrient intake. Therefore, the high quality bioavailability of the product is something that Jeff believed to be a game changer in his fight against cancer.
As a result, he felt this proved to be particularly impactful since the chemo was depleting his body of what he needed to live and fight the disease. Consequently Jeff has become a huge spokesperson for the product. In short this is his testimony.
The Reliv Nutrition line has extensive medical based studies and the company has 9 patents on a nutrient known as LunaRich. As a result Reliv nutrition prides itself on having the highest quality ingredients prior to the start of manufacturing. Therefore, they maintain the reputation of having pharmaceutical grade quality control of those nutrients. To sum it up they maintain the industry's strictest quality control all the way through to the end of manufacturing.
This is an impressive claim, but holds true. This is the case because this company has thrived in the marketplace now for 30 years and have become a publicly traded company. In addition, you can find Reliv on the NASDAQ:RELV.
In short, you can rest assured that Reliv supplements contain the highest grade level quality of any supplements on the market. I wouldn't be using them otherwise.
Take the time to carefully read through the next section to understand the science behind the product. The patented LunaRich is something I think you'll find to be incredibly fascinating in terms of your health, fitness, and performance. After that, go ahead and order yourself a can of the Now Whey protein to try for 30 days and I know you'll thank me for it later.
Reliv doesn't offer samples. A single "taste sample" is not going to offer you any real benefits. This is why actually using the product is important. Anybody can give a sample for "taste," but nobody can give you a single dose sample pack and you get any benefit from it.
So just go and order your can of Now Whey and incorporate it into your nutrition. Mix your shake after training over the next 30 days! After that, you can get back to me on your experience with using the product. To sum it up, at some point you just have to take action and this is a product is one you can take action on using. That is to say that consistent action is required, but this is true with everything in life.
Reliv Nutrition: The Science
What's LunaRich®? This breakthrough nutritional ingredient optimizes bioactive lunasin.
What's lunasin? This element is a naturally occurring soy peptide. It's the first nutritional compound identified to work at the epigenetic level to promote optimal cell health.
What's epigenetics? This how your DNA expresses itself. The Lunasin influences DNA expression.
What's that mean for me? So this is a nutritional approach to take control of your health like never before because this is quite simply the most advanced nutritional formulations on the market today — and these available here with Reliv.
The LunaRich supplement is what Jeff used along with getting his fitness dialed in to fight the cancer treatment. His progress shocked the doctors. His lymph nodes reduced in size, he got stronger, and now he's 3 years with clear from treatment.
Reliv Nutrition: Nutritional Epigenetics
Every cell in your body contains the same DNA, or genome. The reason different cells perform different functions lies in your epigenome, a higher level of complexity within the cell.
The epigenome consists of DNA packaging material and works as a series of genetic switches. It determines cell function by signaling your genome which genes to turn on and off.
Nutrition is at the center of it all. The first dietary ingredient identified to affect gene expression is the soy peptide lunasin. It promotes optimal health at the epigenetic level. With lunasin, you really can take control of your health.
If You're Interested You Can Start Improving Your Health And Performance By Ordering Yours Here Today!