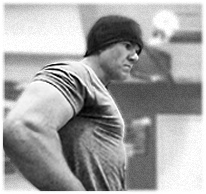 Ripped Beyond Reality – 2 Exercises That Are the Absolute Best Way For Getting Six Pack Abs!
Getting six pack abs takes discipline, consistency, and a smart training program. I have included 2 exercises here to help you to boost your metabolism significantly to speed up your attempt at reducing your body fat and getting six pack abs. Check it out!
1. The Overhead Kettlebell Swing:
This exercise is exerting and is a sure way to get ripped six pack abs. To perform the overhead kettlebell swing you will want to start the lift with a moderately heavy kettlebell. Next you will want to perform a necessary technique known as the hip snap in order to build enough momentum to swing the bell in an arc from between your legs all the way up to above your head. You will quickly realize just how much force you will have to generate from your hips and core in order to get the kettlebell vertical. This hip snap motion is done by you constantly and fluently flexing and extending at both your knees and hips in order to build that much needed momentum. This is one six pack abs workout that goes beyond bodybuilding my friend!
2. The Kettlebell High Load Windmill:
This is one lift that is sure to rip up your midsection and provide you with great shoulder stability, hip flexibility, and a strong core to last. To perform this lift you will want to properly clean the kettlebell to your chest and press it overhead. Next, spread your feet to about shoulder width distance apart and angle the foot opposite of the arm with the kettlebell about 45 degrees away from your body.
For instance, if the bell is in your right hand simply angle your left foot 45 degrees away from your body. Next, kick your right hip out and lock it in place. Make sure to keep your left shoulder retracted, look up at the kettlebell, and slowly bend at your torso leaning down towards your left foot. Make sure that you continue to push your right hip back keeping your right leg straight throughout the descent. Go all the way down for a good stretch stabilizing the kettlebell the entire time before coming back up. This is a definite way to get six pack abs in your workouts! Remember to train hard, but only the best train smart.