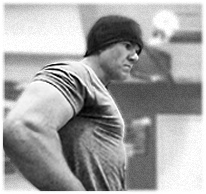 Get Jacked – The Absolute Best Workout Routine For Men Period!
So you want to get a jacked body? If so this strength training routine for you will change your body and give you results like nothing else. The best workout routine for men to build muscle has to involve kettlebell training. Kettlebell training is strength training that is designed for fat burning!
This unique strength training workout routine involves you having to execute lifts through various movements rather than trying to isolate specific body parts. The result of you training in this fashion is a workout that burns a ton more calories by quickly raising your level of perceived exertion. An example of a base kettlebell strength endurance lift is the double arm kettlebell swing. This single lift involves you having to incorporate hundreds of muscles at one time in order to swing the iron kettlebell back and forth from between your legs up to chest level. This movement alone is enough for you to plan an entire strength and conditioning workout around.
Kettlebell training is dynamic and follows the rules of the human dynamic by mimicking movements that are true to the human form. Your strength and conditioning workout will go places that you never thought possible with kettlebell training. The benefits of this type of training are endless. Be aware that this form of training has been field tested and proven by the world's greatest strongmen and athletes for over three centuries! This isn't some fad that is here today and gone tomorrow. Its more like a constant that was here yesterday and will be here for centuries to come!
Throw yourself into kettlebell training if you consider yourself a man that is serious about hard hitting results! Be part of the history. Know that when you grab the iron handle of the kettlebell that you are following in the path of the world's greatest physical strongmen. Remember that any guy can train hard, but only the best train smart!