5 Strength Training Tactics To Improve Your MMA Fitness
Over the years being able to compete in athletics, having to overcome two reconstructed knees, and taking up the art of Muay Thai I've come to realize that strength training is a discipline as well. You see to me strength and conditioning is a discipline in and of itself and it requires consistent practice to understand this. You must get in tune with your body.  The only way you can understand it is if you practice it with purpose and consistency. Suddenly you'll realize you will learn more and more about yourself and your abilities.
Innovative Strength Training 
I learned this first hand when I started practicing Muay Thai and realized I was strong, but lacked the suppleness to move with the speed and precision of a finely tuned fighter. Because of this Muay Thai helped me with becoming better able to unlock my body's potential by freeing up those tight muscles and engraving new movement patterns that produce power and speed for striking.
The strength element was there, but I had to unlock this potential in my body by altering my training approach. You see not only did this help me with learning how to strike with some tremendous force, but it also directly influenced and altered my strength training approach. This is when I realized that strength training and MMA (or Muay Thai) could be the most powerful marriage of human fitness and performance.
One thing I've always worked at is trying to communicate to my students the importance of mastery. I always pound on the message of being able to control your body which requires the effort and quality practice of performing foundational human movement. This is the whole point of strength training whether it's for MMA, sport, or life.
In terms of MMA, Muay Thai, or BJJ when my students go to compete I want them to literally shock their opponents by having been exceptionally prepared because of the application of smart strength training tactics. Then and only then can they step into the ring, or onto to that mat and perform at their peak.
You see I believe one of the main reasons a well planned innovative strength program is so effective is because plain and simple it usually goes against what everyone else is doing. Sure there are guys and girls that will put in the work, but the truth is that most don't put in the work of both training fight performance along with mastering innovative strength training skills…at least in terms of everyday amateur competitors.
Effective Strength Training Tactics…
It doesn't matter whether you are looking to burn fat like a jet engine or wanting to kick the crap out someone in the octagon. If you combine smart innovative strength training tactics to your fight skills training it's going to make an overwhelming difference. This is like throwing rocket fuel onto a campfire.
5 Simple Strength Training Tactics For YOU To Incorporate…
Stretch And Stretch Often:

This one may sound obvious, but when most no one else is doing it it's not so obvious. Plain and simple if your competition isn't doing it and you are you have an edge in your strength training! Improving flexibility is incredibly valuable. Do it.
Look For Your Weaknesses And Train To Improve Them:

This is one area that truly amazes me. Often when I perform an assessment on someone (competing athlete or not) it is apparent that they have been training more for WANTS instead of their NEEDS! Most people work to do what they are best at rather than trying to improve what they are worst at.
Look For Your Opponent's Weaknesses And Train To Exploit Them:

Yep, this is also a biggie. If you are a competing athlete and know something about your opponent's training then use that information. For example, let's say you know that your opponent has a lot of power. However maybe he usually gasses out after the 1st round. If this is the case then make sure you can counter his power and last longer while doing it!
Lift Heavy:

I love this one. Lift heavy stuff and do it well. You'll be stronger, more resilient, you'll develop a supercharged metabolism, and be able to recover faster. You'll also be more likely to throw your competition around like a sack of potatoes when the time comes.
Punch And Kick The Shit Out Of A Punching Bag:

Yep, this isn't too fancy or scientific. However you're probably going to be limited if you can't strike with precision and power. Focus on quality striking for 2 and 3 minute rounds. Spend the extra time to hone your technique. If you're Kru, or coach instructs you and you are having a problem with getting down the technique then spend the extra time working on it.
This concept may seem simple, but regardless of your training goals or sport it will clear your head, provide an absolute killer level of cardio, and it will no doubt contribute to the development of your mental toughness.
Even if you're not a fighter and don't think punching and kicking a bag for 3 minutes all out will challenge you then I challenge you to try it. I guarantee you will come back to me with a different perspective on conditioning.
The Takeaway
In order to take your strength training program to the next level you've got to be willing to combine innovative strength training to your MMA and fight performance. You've got to eliminate any inhibition to seek out new strength training strategies.
As an example this is why I love kettlebells, medicine balls, and other unconventional strength training methods. You may surprised at how many folks in the athletic realm aren't utilizing them for optimal fitness and performance.  This is another way you can get ahead and significantly propel your fitness and performance.
Also learn how to tie these together. Make sure you check out my brand new 90 Day MMA Strength And Conditioning Program right here below!
CLICK HERE TO ORDER MY 90 DAY MMA STRENGTH AND CONDITIONING PROGRAM!!!
It's changing lives already!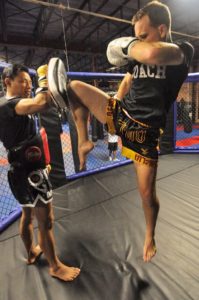 Related Articles:
Jump Rope: The Most Underrated Conditioning Exercise
Top 5 Plyometric Drills For Fitness
3 Top Conditioning And HIIT Workouts For MMA And Combat Fitness
5 Kettlebell Exercises For MMA Fitness
5 Unique Strength Drills To Enhance MMA Performance And Serious Fitness
---
Are you having trouble staying on top of your nutrition and all the supplements?
If so then get on the
Essential Nutrition
Your health is worth more than a bulk multivitamin pill. You deserve Reliv Now. Made with LunaRich, Reliv's epigenetic superfood, and loaded with vitamins, minerals and super-powered antioxidants, Reliv Now is built on the latest findings in nutrition science.
Its uniquely effective formula delivers a balanced array of the most advanced ingredients to give your body what it needs to thrive. Why settle for 'fine' when you can feel 'great!'? Get your health up to speed with Reliv Now.
Cutting-Edge Science: Study shows potential of Reliv Now® + LunaRich X™ to support weight loss, heart health and metabolic wellness.
Are you looking to enhance your performance, recovery, and muscle mass development? 
If so then get on the
Performance Nutrition
Most of us don't come close to consuming the nutrients we need to keep our bodies performing at their peak. ProVantage meets the nutritional needs of physically active people and athletes to improve performance, endurance, recovery, and repair.
Powered by LunaRich, Reliv's epigenetic superfood, this patented formula delivers 13 grams of muscle-building soy protein, plus other advanced ingredients like Tonalin®, MCTs, Creatine, CoQ10 and supercharged amino acids. ProVantage marks a major advancement in the science of sports nutrition.
It's the edge you've been looking for.