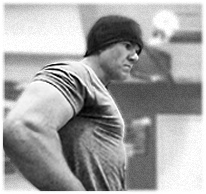 True Strength – The Second Definition – It Goes Beyond Muscles!
I want to touch on the other definition of strength. I know that I have defined it in terms of the muscles and the importance of tension, but I want to talk about the mental attitude of strength.
Strength is something that goes beyond muscles. I want to say that as a business owner and strength and conditioning specialist that mental attitude is the true powerhouse of your life and your success as it develops both in and out of the weight-room. If I have learned one thing about being successful in anything in life it has everything to do about your attitude. I believe that life is about 10% of what happens to you and 90% of how you react to it. I also believe that these reactions to life can be heavily influenced by how proactive you can be with how you pursue it. Life is relatively short and time is always an issue. Whether you are pursuing a fit body or a successful business I believe you have to do it with a high level of planning and efficiency! By doing this you can execute many small goals at a time that eventually get you to the BIG ONE. Just like working-out I believe that you have to have goals and a well-structured plan to get to those goals.
The strength is going to come from you not giving up and aggressively getting back up to continue fighting even if you fall. Don't be soft!
The second definition of strength goes beyond muscles. This is your mental toughness and attitude. React with your goals in mind.