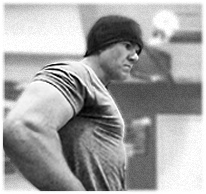 The One-Arm Push-Up – Truly Mastering the Age-Old Exercise!
If you have ever seen guys grinding out 50 to 100 push-ups at a time its a pretty impressive demonstration of muscular strength and endurance. Doing the traditional push-up is one thing, but in my opinion if you have ever seen the one arm push-up executed flawlessly it easily "one-ups" the normal 2 arm drill.
The one arm drill is truly a display of upper-body power and shows that the individual doing the drill has started to tame a high level of intensity. Like any one arm tamer you have to practice this drill to truly master its full dynamic. Many guys that have tried it have injured themselves by not holding their body in the correct position for creating ultimate tension for their body to stabilize throughout the movement. You must realize that unlike your traditional 2 arm drill a greater amount of your total weight is distributed to the one side that you choose for the drill. This is where you quickly realize the importance of weight distribution when it comes to doing any single limb exercise.
The benefits of executing this drill are immense. You develop total upper-body power to generate huge pushing and punching power. You also learn how to manipulate your trunk or core to bend and tension to achieve greater flexibility and a fuller range of motion. The intensity of the drill alone builds mind-blowing strength, hardens the muscle, and develops more resiliency. It also vastly increases your perceived level of exertion adding to the conditioning effect of your total workout. All of this is achieved and at the same time you get to look good! Forget doing high reps and worry about the "Mastering" of this intense physical task!