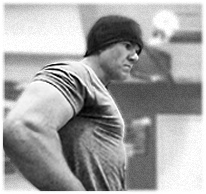 The Push-Up – 2 Steps For a Beginner to Execute a Single Push-Up!
So you want to learn how to execute a perfect push-up. There are many ways to skin a cat. However, the following instructions are my way to skin the cat! There is no need to attempt a push-up unless you can do it correctly. The following series of instructions will assume that you are incapable of executing a push-up at all, or that you are incapable of executing one correctly.
Step 1: Your strength has to be built up enough for you to hold your body in a proper upright push-up position before you can attempt anything. This requires a sufficient amount of core strength and body alignment before progressing any further. So here you need to get into position. Get your body in the upright position with your arms fully extended and your hands at shoulder width distance. Your hands should be placed to where they align to lay directly under your armpits directly upon descent. Your body should always be straight and rigid from the shoulders to the heels. Now all you do is practice holding yourself in the upright position. Try for a minute and then progress to 2 minutes and so on.
Step 2: Once you are able to firmly hold your body for a sufficient 2-3 minutes then we'll attempt a modified push-up. Start this by staggering your body weight by placing your hands up on a bench. This distributes more weight on your feet and less on your upper-body. Even though your body is slanted still maintain your rigidity as you descend and touch your chest to the bench before coming up. As you get better at this then move to a height that is lower until you eventually go full range push-ups off of the floor! You should practice often and not worry about moving on to a harder push-up until you have confidently executed each step.
Remember, old habits die hard! So kill them! Practice these flawlessly, often, and hard then we'll move on to one-arm drills.