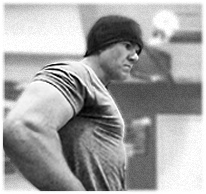 Total Fat Annihilation – 2 Exercises to Harden Your Body!
I have the answer for you concerning your fat-loss. Weight-loss in and of itself is useless unless you are losing it healthy by losing the fat and building a hard body packed with lean muscle. You see to achieve total fat annihilation you must build lean muscle mass. Building this lean muscle mass is what speeds up your metabolism. Once your metabolic rate has been sped up then your muscle will torch the fat away from your body. You see lean muscle and fat cannot exist in the same world. Here are 2 drills to help you create that world for your body!
1. Kettlebell Clean and Squat: This is an awesome total body drill. For starters, you can execute this particular drill with a pair of bells or with a single bell. For the sake of this article I am going to talk about using a single kettlebell. To begin, simply straddle the bell with it between your feet. Perform a proper squat and pick up the bell by cleaning it to your chest. Once you have properly cleaned the bell to your chest simply perform a perfect form squat. Now when you do this you will see that this particular drill is basically a front-loaded squat because the bell is in front of your body. Fight against the sensation to lean forward and to lean to the side of your body in which you are lifting the bell. This is how you will obtain tremendous strength and you can optimally tension your body in order to get into awesome shape!
2. Kettlebell High-Pull: This drill is much more dynamic. It is great for strengthening your shoulders, upper-back, glutes, hamstrings, and about a 100 or so other muscles. To start this drill you must be familiar with the proper technique that is necessary to perform a single-arm swing. Once you are ready to start this drill simply execute a single-arm swing with the bell in order to allow it to build some momentum. Once you are in this motion then simply allow the bell to elevate up to a lateral position to your head at the top of the arc of the swing. Now here you obviously want to be careful not to knock yourself out! The motion that you want to mimic when the bell is lateral to your head should be like "pulling back the string on a bow before you shoot the arrow!" Its an almost "raring back of your elbow" type of motion! From this position simply allow the bell to fall back into the natural arc of motion to repeat the movement again. This is kettlebell training for real fat-loss! Train flawlessly and train hard.