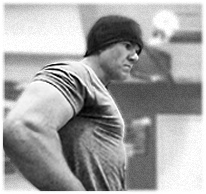 Greek-God Abs! 2 Exercises to Help You Chisel Your Stomach!
If you are capable of doing a thousand crunches you will not have a chiseled rock hard six-pack. The only way to show off those abs is to lose all of the body-fat that is layered around them! To melt away that annoying layer of fat you have to engage in shorter high-intensity exercise that will jack up your metabolism. Check out the following 2 exercises to help you get that flat hard stomach!
1. Thrusting Push-Ups: This is an exercise that will surely get your attention. Start by standing with your feet about shoulder-width distance apart. From here, like a squat thrust, you want to crouch down placing your hands on the ground in front of you. Your palms should be flat on the ground. Next, you go from this crouched position with your hands on the ground to kicking your legs straight back behind you to get you into an upright push-up position. From here you simply execute a normal push-up. After the push-up kick your feet back up bringing your knees back to the crouched position that you were in to start the exercise. Continue doing this cycle for the desired number of reps.
2. Stair Sprints: This exercise can be done at your home, at the local park, or the local high school. Here you just simply engage in running the stairs of the stadium or stairway. For the purpose of engaging in short burst high intensity movement you want to run the stairs as quickly as you can. Make sure you are pumping the knees and elbows to get maximum effort in trying to get to the top. This will certainly jack up your heart-rate and metabolism!
If you can master doing these 2 drills with high-intensity and volume you are well on your way to getting greek-god abs!