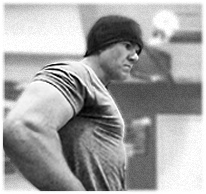 The Kettlebell Snatch – 2 Huge Benefits of This Superior Lift!
You have probably realized by now that the kettlebell is about 95% of my client and personal strength program. It is a device that is superior to the rest in terms of overall strength, human performance, and lean muscle development.
To start, you are probably familiar with the kettlebell swing. The double-arm swing is challenging and the single-arm is even more challenging. Here I want to talk about the overhead snatch. You know that the snatch is an olympic lift and its singular form is similar, but varied when executed with the bell. For the purpose of this article I will be addressing the overall benefits of the single-arm overhead snatch with the bell.
First of all, when participating in a high intensity snatch it is a tremendous lift that can be utilized for explosive vertical power. Generating enough force to execute this overhead lift with a heavy bell not only adds tremendous shoulder stability, but incorporates many muscles of the core and hips to generate amazing vertical force. This is beneficial because it stimulates the nervous system to allow muscles to contract more forcefully. This immediately builds total-body power and resiliency! It hardens and toughens the body to withstand outside forces such as being able to take a hit and reducing the risk of injury.
Secondly, if you think that the double and single-arm swings are intense wait until you attempt this monster lift. Again you can engage in heavier bells to develop total power or a slightly lighter bell to build amazing conditioning. You see here the benefit of shoulder stability is still huge, but even by executing this lift with a lighter bell you will still generate cardiovascular conditioning that is unlike anything that you have ever experienced. The overall benefit is a win-win situation whether you are a regular Joe or a super athlete!
If you ask me, anyone that includes the kettlebell into their strength program isn't such an "average Joe!" Execute the overhead snatch frequently and flawlessly! Instantly engage in HARD BODY CONSTRUCTION!