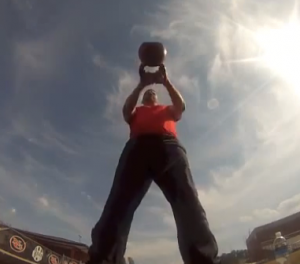 Strength Tip Of The Day…The Kettlebell Fat Eliminator
by: Brandon Richey
Strength Tip Of The Day…The Kettlebell Fat Eliminator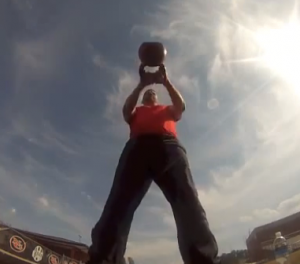 Today's post is going to be about 2 things. It's all about eliminating body fat and training with kettle bells. If that's not wrapping something up into a nice neat package then I just don't need to wrap. Ok, that's the best I could come up with for the moment. Anyways, keep on reading to learn more about this neatly wrapped package of fat burn. 
Kettlebells And Fat Burn…
The fact is that we all want to be strong. I love being strong and being able to move around a lot of iron regardless of what iron I'm lifting. I mean I enjoy lifting barbells, dumbbells (again the iron kind, not the human kind), and kettle bells. I love being able to maintain that sharp edge of strength, but I also like being able to move with speed and agility as well. 
Now I know I titled this post The Kettlebell Fat Eliminator and the following workout will certainly do that for you and anyone else of this world, but it's also about fine tuning your body by showing you how to combine the elements of strength along with the elements of skill. Whenever dealing with kettlebells rest assured that you are going beyond mindless effort…It's all about connecting the mind and the body. 
Connect the mind and body with this little program!
A while back I decided to blend the use of the kettle bell along with the nature of one of my sprint workouts out at the track and field of a local high school here in Gwinnett county. I know what you're thinking, "Did you video it?"  Pump the brakes and ease your mind my young Jedi because I did video the training session. It's an older video, but I still use this workout.  As a matter of fact I even took the old Go Pro video camera out and went a bit Hollywood with the appearance of this little clip. I guess you'll just have to watch it for yourself to find out. 
How'd you like that little training demonstration? I know you're probably not going to believe me, but that was filmed, executed, cut, and edited all by myself. It was just me, the track, the kettle bell, and the Go Pro. I'm telling you that because it was a challenge doing all that while being completely out of breath! The bottom line is that this is an intense training interval that I know you'll find to be a massive challenge. I'll include the details of this particular workout here for you below: 
After a dynamic warm up I proceeded to hammer out 20 kettlebell swings (with a 72 lb. bell) immediately combined with a 50 yard sprint for 5 rounds. Following this I knocked out some kettle bell jerks (with the same bell) for 3 reps on each arm followed by some more 50 yard sprints for 5 rounds.
I finished out with a variation style of push ups isolating off of one arm at the top of the push up (5 on each arm) immediately followed by stadium sprints up 88 stairs at the football stadium at North Gwinnett High School (which is freaking huge). I did this for 5 rounds and I was tapped out! Give it a try and scale it based on what environment you have available for yourself. 
The Kettlebell Fat Eliminator requires you to have kettlebells so I figured…
Now before attempting this I would recommend that you be used to doing some level of sprint work and be proficient with the kettle bell lifts that are provided here. It's not elitist, but it will challenge you mentally which is why I'd recommend you be comfortable with the mentioned lifts so that you don't incur an injury due to being overly fatigued. Make sure you pace through the workout and allow sufficient (but not too much) recovery. 
In a nutshell you're going to burn a big ass truckload of calories with The Kettlebell Fat Eliminator and if you're not careful you may even lose your lunch. Just play it smart, pace, and stay hydrated. Remember that with any workout "Quality" always trumps "Quantity" so don't sloppily struggle through this to the point that you feel your lifting technique is being compromised. 
Remember that even though I've set the parameters here you can still scale it up or down to suit your current level of ability. Just give it a shot and let me know what you think by posting up a comment in the box below. Remember that most anyone can train hard, but only the best train smart my friend. 
Related Articles:
Weight Loss, Strength, And The Rest…
Kettlebell Workouts For Fat Loss And A Lesson On Motivation…
Part 2: Physical Training Protocols Of Choice…Kettlebells & Bodyweight
Strength Tip Of The Day…The Kettlebell Fat Eliminator