Strength Tip Of The Day…Choose A Worthy Training Environment!
by: Brandon Richey
Strength Tip Of The Day…Choose A Worthy Training Environment!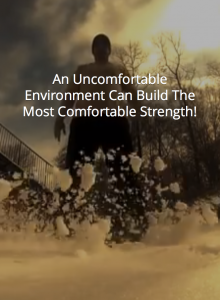 I've never liked the idea of being soft. For whatever reason if I'm not going through some kind of mental/physical exertion, challenge, or mild discomfort on a consistent basis I feel like it's one of the biggest sins and a true disservice to myself. How can anyone exist without challenge, physical or mental? The answer is that they DON'T. 
Your Training Environment…
I remember seeing the movie Batman Begins for the first time. Bruce Wayne went on a journey to find himself and to seek out his purpose in life.  I know it's fiction, but if being the heir and son of a billionaire wasn't enough Bruce Wayne realized something on his life journey. In the movie Liam Neeson helped him to discover himself during that treacherous journey he took to that ice and snow mountainside in the middle of nowhere.
Start creating your own training environment here
There was an interesting conversation in the beginning of Wayne's struggle where Neeson made a powerful statement about devotion that wasn't fictional at all. I know I actually learned something from this. See if you can too. Check it out here.  
As you can see that was a pretty powerful statement. If you can devote yourself to an ideal (or anything for that matter) you will become more than a man. You will become a legend. This is true with most anything and is especially true during the process of building strength, a business, or even a community.
One of the ways you can see how devoted you are is by what kind of training environment you place yourself in. Like Wayne on that treacherous snow mountainside you can also choose a worthy environment which will in turn help you with the worthy cause of achieving your goals. 
It takes more knowledge than equipment to create a worthy training environment, but if it's equipment you need then check these out!
I mean let's face it, too many health clubs these days play more of the role of being a nightclub rather than providing a respectable training environment. In order for you to acquire true results you must hone your mind, and sometimes the best way to do this is to throw yourself into a challenging environment so that you are forced to do what is necessary. 
From time to time, or all of the time forget the comfort of the air condition, or the heater. Get outside, create your own dungeon, or join someone who has one in mind. If you are a traditional athlete or more of a tactical athlete and you have to be devoted then choosing your training environment is crucial. The focus has to be there or the results you NEED the most will never be produced. Remember that it's always more important to address needs, not wants! Pick your environment today my friend. 
If you have an environment of your own then drop a comment in the box below to tell us about it. Keep training smart! 
Related Articles: 
Imagery For Your Strength Training…The Good, The Bad, And The Scary!
Sports Done Backwards…Youth Strength Training Fail???
10 Benefits Of Your In Home Training…
Strength Tip Of The Day…Choose A Worthy Training Environment!