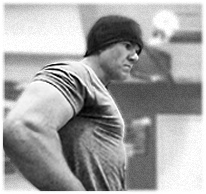 Killer Body For Women – The Absolute Best Upper Body Workout For Women in a Single Exercise!
Upper body strength training for women tends to spur a lot of misconceptions on how women's bodies develop when working out. Questions pop up relating to whether or not women will get big bulky muscles, or a manly chest. These are not true for 98% of all women and for the remaining 2% the rules don't apply because they are getting outside help from some chemical enhancement or other outside agent anyway. Check out the following single exercise that is the best for helping you to develop great upper body muscles.
I would like to introduce to you the overhead kettlebell seesaw press. This particular exercise is a tremendous upper body exercise for women. To perform this exercise you will have to have a pair of moderately heavy kettlebells of equal weight. Yes, you can do this with dumbells, but kettlebells present a different challenge and much more involved effort when it comes to overhead pressing.
If you don't believe me then simply attempt lifting the same weight dumbell and then a kettlebell of equal weight and you will quickly see what I am talking about. To perform this upper body exercise, stand and properly clean both kettlebells to your chest. Next, press one bell overhead. The next step is very important. As you lower the first kettlebell press the second bell before the first is at rest. There is no pause between presses. This presents a much different challenge when doing this with the kettlebells and your muscular endurance is challenged unlike anything else you have ever tried. Try to perform 5 to 8 alternating presses with the kettlebells in continuous fashion.
If you don't think this upper body exercise is good for women then you haven't been working out the way you should have been. Remember ladies that anyone can train hard, but only the best train smart!