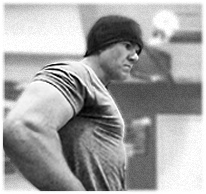 Kettlebell Bad Woman – The Single Best Female Athlete Training Method Today!
Female athletes that are smart and driven train hard and train smart! Strength training female athletes is something that I have done for a long time. Female athletes are more prone to knee injuries, particularly with ACL injuries. Women competitors have to train intelligently and as intensely as their male counter parts.
I want to introduce to you the single best exercise for strength training female athletes today. Enter the kettlebell swing! You may be familiar with the kettlebell by now and know that it is an ancient strength and conditioning device that has been used by the world's greatest strongmen and athletes for over three centuries. The base strength endurance lift that is performed with the kettlebell is known as the double arm swing.
This single exercise involves you having to swing the bell with both arms from between your legs up to chest level back and forth like a pendulum. This is done by you having to implement a technique known as the hip snap. The hip snap is done by you having to constantly and fluently flex and extend at your hips and knees in order to build the necessary momentum to swing the kettlebell back and forth in an arc like motion.
This single exercise involves hundreds of muscles and helps you to build tremendous total body strength with the cardiovascular conditioning to match! This style of strength and conditioning will help you to reduce the risk of injury and take your athleticism to all new heights.
If you have not been familiarized with the kettlebell until now then get more acquainted! If you don't start to implement this training into your personal program you are only cheating yourself and holding back your progress. Remember that anyone can train hard, but only the champions train smart!