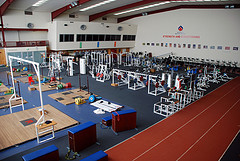 Football Performance – The Single Best Way For Football Players to Develop Explosiveness!
If you want to know the single best way to develop explosiveness in your game then you need to be smart about your workout program. I have included a single exercise here that will help you to take your game to all new heights.
It is no secret that your football weight lifting workouts have to be intense to survive in this brutal game and I approach my training programs head on knowing this. I would like to introduce to you a variation of an olympic lift known as the dual kettlebell clean and jerk. For this drill you will need a pair of moderately heavy kettlebells of equal weight. As you may know the kettlebell is an ancient strength training device that is second to nothing when it comes down to developing a rock hard body with the performance to back it up!
When performing the dual clean and jerk or any other lift with the kettlebells you will find that the dynamic is much more different than traditional dumbells or barbells. Start the lift by setting the bells down on the ground between your feet. From here you will want to perform a proper kettlebell clean with both bells and correctly rack them at your chest. Once you have the bells properly racked at your chest then perform the hip snap to assist in driving the kettlebells vertically to lock them both out above your head. Make sure that both your elbows and shoulders are properly locked into place. Lower the bells back to your chest and then to the floor and repeat the process all over again. Attempt 5 or 6 solid reps of this with a pair of moderately heavy bells and I guarantee you will be able to tell a significant difference in the drill.
In order to kick your game up a notch you have got to take the time to learn about implementing the ancient kettlebell into your training strategy. Your decision to do so will show on the field. Train hard and finish the drill my friend!