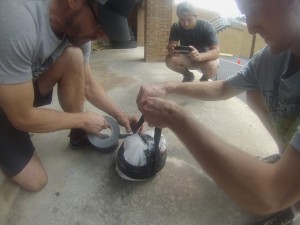 When It Comes To Strength Less Can Be More!
by: Brandon Richey–Get Free Updates And Training Guides Here
When It Comes To Strength Less Can Be More!
That's right, today's blogisode is all about how you can simplify your strength and conditioning program in order to be effective without all the complication. No matter your circumstances the process of building strength can be practical and effective if you just simplify the circumstances.
How Less Can Be More…
A prime example of this can be seen in the picture above with my good friend and retired Navy SEAL Brad McLeod helping out some students with building a homemade medicine ball during our Kettlebell Power And Speed Formula clinic. I'm a big believer in simplifying things to bring into focus what is most important when it comes to acquiring strength and I think I can speak for Brad too when saying that. 
The reason I'm talking about this today is because Brad just recently published up my latest article on the issue over at his website at SEALGrinder PT. I took the opportunity to discuss acquiring strength by simplifying the model with a tried and true method to help your approach on getting stronger. Make sure you check out the piece right here by clicking below!
>>>Click Here To View Article<<<
Related Articles: 
The Meaning Of American STRENGTH!
Strength Tip Of The Day…Simplify Your Training
The Butterfly…How Strength Is A Struggle!
When It Comes To Strength Less Can Be More!