Strength Tip Of The Day…Simplify Your Training
by: Brandon Richey
Strength Tip Of The Day…Simplify Your Training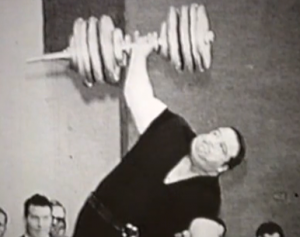 Believe it or not there was a time when elite strongmen would perform some amazing feats of strength all while demonstrating an amazing level of mobility and grace, and it was before all of the science of periodization schemes, set and rep schemes, and any other advanced protocol of training that you can think of. These guys just experimented, learned, and grew stronger. They kept it simple. 
Simplify Your Training…
You see I'm always getting hammered with questions regarding strength development, workout plans, lifting technique, etc. This is quite alright though because I love helping folks out, but at the same time I like to remind people that it's always an experiment when it comes to physical learning. 
Here's a great resource to help you simplify your training!
The strongmen of yesteryear certainly knew this and many of them never even had any formal instruction outside of just being able to harness their own creativity and physical will. A good example of this was Paul Anderson (pictured above). Even being one of the strongest men in recorded history Paul primarily trained himself and created his own system for eventually earning the title King of Squat. 
Now I'm not saying he didn't learn from someone at some point, but he primarily figured out a system by himself that worked for him in order to grow and accelerate his physical development. The key to growing your strength is just about persistence and keeping things simple. 
A common piece of advice that I like to give to my readers and followers to the blog is to just keep your training as simple as you can, especially if you're a beginner. I mean in many cases you can select 3 to 4 key exercise movements and work on trying to master those movements as best as you can and it will go a long ways for you in regards to your strength progress.
The Rule of 10…
In terms of keeping things simple let's take a minute to use a concrete example of a simple progression I like to refer to as the Rule of 10. The Rule of 10 is a very simple concept in terms of understanding, but it may be a significant challenge in terms of it's execution. 
Here's a few moves for you to apply the Rule of 10!
The Rule of 10 is a basic concept I like to teach to many of my students when they are trying really hard to get better at a specific movement or exercise. For the sake of discussion let's say I have a student that wants to get better at doing push ups. In this instance I will tell him or her that before they are allowed to attempt any more advanced style of push up they must first master (with flawless execution) the standard push up for at least 10 reps, hence the name Rule of 10. 
Once they have mastered the standard push up and can perform the required 10 reps with relative ease then they are allowed to start attempting the next more advanced type of push up. The same rule applies here as well before they are allowed to make the next progression. This pattern repeats itself until the desired number of reps for a desired movement is reached.
Make sure you give this a shot and let me know how it goes. Please make sure you post up your questions and comments below in the comment box. Remember that most anyone can train hard, but only the best train smart my friend.
Related Articles:
Strength Tip Of The Day…The Kettlebell Fat Eliminator 
Strength Tip Of The Day…Just Do It!
Strength Tip Of The Day…Master Your Focus!
Strength Tip Of The Day…Simplify Your Training