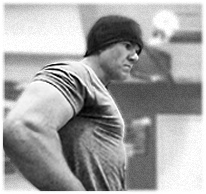 Unmatched Conditioning – The Single Most Intense Cardio Workout to Do Right at Home!
A truly intense cardio training workout has to include kettlebell swings! There is no substitute for the tremendous amount of "anaerobic" conditioning that you can get from the iron cannonball. By incorporating this ancient style of training into your cardio workouts at home you eliminate the need for large bulky equipment such as treadmills, cross trainers, and stair climbers. This single device is versatile enough in it's training to help prepare you for any intense physical task at hand.
The base strength endurance lift that can be performed with the kettlebell is the double arm swing. This is a highly effective lift in that it incorporates hundreds of your muscles at once to execute the task of swinging the bell back and forth from between your legs up to chest level. This exercise is simple in it's concept, yet not so simple to do for 2 to 3 short minutes at a time. By executing this lift you will quickly see just how exerting it can be and it will make you feel like those casual walks around the block were a big waste of time! This is real cardio my friend. This exercise will get you to break a sweat quicker than most anything you have ever tried. The kettlebell is not nice, but it is damn sure effective!
If you are looking for a truly intense cardio workout that you can do anywhere (preferably at home) then you have stumbled onto the right article. Take the time to properly learn the technique involved in this basic lift and this single lift alone will impact your cardiovascular fitness quicker than anything you have ever tried. I will even challenge you further by asking you to access the rest of my articles on the matter. Remember that anyone can train hard, but only the best train smart my friend.