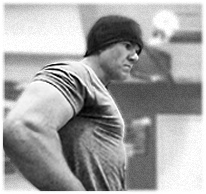 Leg Power – The Best Leg Strength Exercises to Do at Home!
In order to increase your leg muscle strength you must implement exercises that involve whole body multi-joint movements. As a strength and conditioning professional I can think of no better way to do this at home than to implement the use of kettlebell training. Kettlebell training is very dynamic in nature and can easily be structured to help you build a pair of powerfully fit legs!
Kettlebell training is an ancient form of strength training that has been around for over three centuries. This ancient art form has been used by the world's greatest athletes and strongmen to forge the perfect body. Kettlebell exercises such as front squats, snatches, swings, and deadlifts are all great in helping you to take your leg workouts to a whole new level. Kettlebells are so versatile that you can use them to work every part of your body without worrying about leaving something out. You see the beauty about this type of training is that it is primarily "movement based" and not "body part specific."
This is the case most of the time, however kettlebells are valuable because they can be structured to emphasize any body part as well. You can implement the use of a pair of bells with many lifts or you can get a more isolateral (independent side) workout for optimal total body development. All you need to pull off a hard hitting leg workout is a couple of moderately heavy bells, a flat open space, and the will to work! Increase your leg muscle by utilizing the power of the ancient kettlebell.
If you haven't already taken the time to learn about kettlebell training then you are behind on cutting edge strength training my friend. This ancient art form is way ahead of the curve when it comes to building muscle and optimal fitness! I will challenge you by asking you to access the rest of my articles on the matter for free. Remember that anyone can train hard, but only the best train smart my friend!