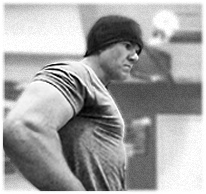 An Endurance Champion's Strength – The Single Best Strength Exercise For Endurance Athletes!
The bottom line is that for you to have a successful endurance athletic career you have to be physically strong! In my opinion there is no better way to do this than to implement the single arm overhead kettlebell snatch into your lifting routine. Kettlebell training is a hard hitting method of strength training that will take your endurances races to places you never thought were possible.
As a strength and conditioning specialist I have had the opportunity to work with some of the world's greatest athletes and fitness junkies. The one thing that makes ALL athletes better is the improvement of both physical strength and conditioning. The single arm overhead kettlebell snatch is perfect for this very thing in that it is a "hybrid" type lift that incorporates both explosive muscular action along with enduring repetitious activity.
Both of these traits are the very thing you need to be successful in any endurance related event. To perform the overhead snatch you have to vertically lift the kettlebell from either the ground or from between your legs up to a held position above your head in a single movement. This is done by you having to forcefully flex and then extend at your hip and knee joints in order to create the force that is necessary to vertically pull the bell to a high lateral position next to your head. Once the bell is at this lateral position to your head you must then vertically punch your palm to lock out both your shoulder and elbow joints to complete the lift. This is serious training for endurance athletes my friends. Weight training for endurance athletes should always included kettlebells!
If you haven't been acquainted with the ancient kettlebell then you are holding back your progress. I will even make it easy on you by asking you to access the rest of my articles on the matter for free. Remember that anyone can train hard, but only champions train smart my friend. Give it a try.