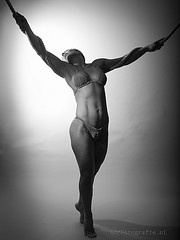 The Power of the Barbell – Elite Strength Training For the Serious Athlete!
There is no doubt that a lot of us have limited resources and time with the fast-paced lives that many of us lead in today's world. Perhaps you are an athlete, but you feel that your strength level has suffered lately due to the lack of time to get to a gym. No worries because your answer is here. I run into people all of the time that have an old barbell set that does nothing but collect dust in their garage or basement. This simple set of weights is all you need for a killer strength program.
To start, get that barbell and weight set out into an open area to where you can put it to use and knock off the dust! Don't worry about a lack of equipment, because being innovative and training on your feet is the best way to get into athletic shape! The only other thing that you might want to invest in is a good rubber mat that is thick enough to protect your flooring from the banging weights.
I would recommend that you work on a simple program by combining as many push/pull combinations with the barbell as you can think of. All you have to do is to be effective by combining the two movements back to back. For instance, you may want to do a set of cleans and follow up this set by including a set of push jerks. This is a great push/pull combo. It gets your body working in an athletically explosive manner which is essential for optimal fitness, core strength, and power. By combining the push/pull method you will also properly develop more balance in strength and a symmetrically developed body.
Remember that you don't have to have a ton of equipment to be effective. Olympic lifting, deadlifts, and squats all serve as highly effective lifts that are sure to keep you sharp. Feel free to continue reading more of my articles to get additional ideas on training.