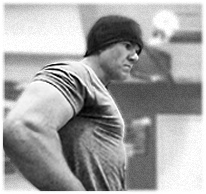 The Sand and the Kettlebell – A Hard-Hitting Combo For the Beach Volleyball Player
As a strength and conditioning specialist I understand the challenge of moving in sand. I have used sand as the very tool to train some of the world's greatest athletes to help build speed. As a beach volleyball player I don't have to tell you how challenging the sand is. However, you may not know how challenging the kettlebell can be! Read on and learn how you can combine the two to achieve an optimal level of athletic performance.
Kettlebells are an ancient strength training device that strongmen and athletes have used for centuries. The iron bell basically resembles a cannonball with a metal handle attached to it. This device can be used for explosive lifts in order for an individual to develop speed, power, and overall peak physical conditioning. When you combine a tool like this with the already challenging obstacle of moving through the sand you can transform your volleyball game into a win-win situation for both yourself and your team.
To start, the base lift that you can perform with the kettlebell is known as the double-arm swing. This is done by you flexing and extending your hips and knees constantly and in smooth fashion back and forth to create momentum in order to swing this ancient device back and forth from between your legs up to your chest level. This movement may sound simple, but if you attempt 30 to 50 form strict swings with a moderately heavy bell you will quickly see just how challenging this iron ball can be!
As a volleyball player you can implement this very lift into your sandbox and combine it with some vertical jumps in the sand. Even performing a simple movement like a farmer's walk with a couple kettlebells back and forth across the sand court can help you to develop tremendous leg power, conditioning, and give you additional height on your vertical! These all sound like helpful traits to have when it comes to playing the game of beach volleyball, right?
Strength training for volleyball is hugely effective with the kettlebell. Give it a try and you'll see just how much of a difference it will make in your game!