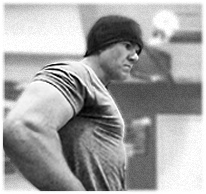 The Kettlebell – A Hell of a Tool and One Hell of a Workout!
What am I talking about? I'm talking about one hell of a workout device, thats what I'm talking about. The kettlebell is one hard-hitting strength and conditioning device that is taking the fitness world by storm. Being a strength and conditioning specialist I have a real understanding of the true function of the human body and I will tell you that the kettlebell is nothing short of being the ultimate workout when properly applied to your strength and fitness program!
This ancient device has been around and used by strongmen and athletes for over three centuries. It is such a "hybrid" structured workout that you can achieve many levels of strength and fitness ranging from endurance, strength, recovery, flexibility, and resiliency when using this iron cannonball. I would highly recommend that you take the time to do your homework on this ancient art form of strength training. I would describe kettlebell training as weightlifting and skill combined. The truth is that you have to learn about the rich dynamic that is involved with it if you are serious about achieving an optimal level of fitness and overall body development. The bell can provide you with all of the factors that you desire from a well-planned exercise and fitness program.
Don't shortchange yourself. Kick your workouts into high gear and get absolutely REAL results. If I have said it once I've said it a hundred times, anything that is worth anything takes time. Once you take the time to learn about the bell you will not be disappointed. Give it a try and let me know about your experience!