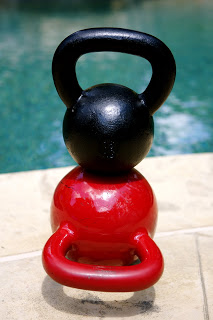 The Kettlebell – Is it the Greatest Strength Training Device Ever?
Now I'm a strength and conditioning specialist and fitness professional that has to eventually express an opinion on different things that are associated with my industry all of the time. Lately the kettlebell has been making a lot of noise and quickly establishing it's reputation in the modern era of Greek gods!
I will give my answer to the question that has been posed on kettlebells and then I will attempt to clarify it so other guys in my industry will write to try to dispute what I have to say. Well, here I go. Is the kettlebell the greatest strength training device ever? My answer to this question is a loud YES! Now before anyone out there wants to start flooding me with emails to argue this let me explain my answer to hopefully reduce a great deal of that email traffic. I am not saying that the kettlebell is the "end all" of everything. Nor am I saying it is the only way to train your body. The question was is it the best, remember?
So having said that, yes I do believe it is the best device ever because the bell is so versatile. You can pretty much mimic any movement with the bell that you can do inside the four walls of any weight-room! The bell can be used as a primary lift as well as a great transitional or smaller auxiliary-type lift for your strength program. My view, as a strength and conditioning specialist, is that it is a tool in the tool box. The difference is that the bell is the most valuable tool in the box!
This was the ultimate strength training device for the past and is certainly going to be on top of the exercise chain for the future!