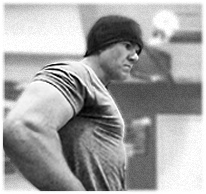 Kettlebells – Supreme Cardiovascular Training For the Endurance Athlete
I want to talk about the most gruesome and sadistic strength training device known to man. A device that will make you wish you never competed in a sporting event or started working out because of its extreme ability to tax the body like nothing you've ever experienced. This tool of fat destruction and ultimate body construction that I am talking about is the kettlebell! I have worked in training many different populations of athletes, law enforcement, and average citizens to know that the one tool they all respect is the kettlebell.
To start, if you are any type of athlete this tool should be the staple of your program. However, in this article I am addressing the endurance athlete. Whether you are a marathoner, cyclist, swimmer, or triathlete this is a tool that I guarantee will improve your cardiovascular endurance, staying power, resiliency, and supreme total-body fitness. A learned and properly applied kettlebell program will allow the endurance athlete to compete at the highest level by not having to devote full time to practicing their specific athletic event. One particular basic kettlebell lift is the swing and it just about targets every major muscle that is utilized in every endurance event. The swing targets the shoulder girdle, abs, forearms, deltoids, traps, mid-back, low-back, glutes, hamstrings, hips, and most of all the heart! This is why a great deal of the training done with the bell translates over to athletic competition.
I want to make clear that I would not discourage you from practicing the event in which you are competing. However, with a kettlebell I wouldn't discourage cutting back on a good deal of your time devoted to practicing the event to replace it with a kettlebell program. Just make sure that you take the time to learn the most effective ways to manipulate your kettlebell program for you to achieve optimal fitness in your endurance training!