The "Getting Ripped Without The Cardio" Myth…
by: Brandon Richey–Get Free Updates And Training Guides Here
The "Getting Ripped Without The Cardio" Myth…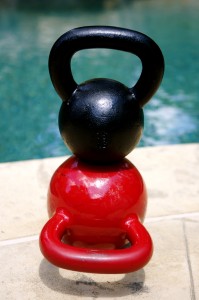 There have been many times when I have gone onto Facebook and posted up a comment referencing this myth full of BS that a great deal of these online and TV trainers like to pitch with their training programs regarding CARDIO. Usually the pitch goes something like this…Get A Ripped Body With My Program Without The Cardio or Never Worry About Doing Cardio Again And Still Get These Sick Results! 
The word "sick" in that last sentence should be interpreted with a positive connotation in case you weren't clear on that. Keep on reading to see where I go with this "cardio session." 😉
Your Cardiovascular System Is Stimulated (Cardio) By Lifting And Moving Stuff…
So once again I get a little irritated when I hear other trainers and coaches say that they never go and do any cardio even though their program usually consists of a circuit training model, a set of intervals, or some form of long sets consisting of big muscular movements. They are usually in pretty good shape and tend to carry a rather lean build while feeding you a load of crap like this.
Look, if you hear any coach or trainer say this when they are engaging in such activities then you can simply point them in my direction and say that Coach Brandon says that is a Big Ole Bull To The Sh*t statement, period! Yes, you can blame it all on me if you want. 
Remember the fact is that cardio, as in "cardio work," in a training environment consist of both aerobic and anaerobic stress. During physical activity your body actually goes through different energy systems that require different cardio demands based on the activity. You can view my post on those energy systems HERE.
Now back to my original point. So all I'm getting at is that when these trainers make such statements they are either ignorant or they are misleading you, period. I guess some how in today's lazy world the pitch to acquire a FIT body without the need for cardiovascular fitness is an attractive hook.
Nevertheless when a trainer is lifting weights, moving, and exerting him or herself to any degree their cardiovascular system is working… I promise! The fact is that your musculoskeletal system and cardiovascular system are NOT mutually exclusive from one another. Let that sink in for a second.
Yes, if you are moving and lifting stuff your cardiovascular system is stimulated and if you don't believe me then just walk over and pick up your 53 lb. or 72 lb. kettlebell to perform 20 to 25 hard intense athletic swings and then check your pulse rate. If you still aren't convinced then load up the barbell with a respectable amount of weight and start pulling some deadlifts for a good 5 to 6 reps and follow this up with a pulse check.
Go a step further and invest in one of those fancy heart rate monitors that record heart activity. Take it and go through one of my programs by hammering out some kettlebell swings, snatches, presses, walkouts, and burpees after hitting the agility ladder and cones for a series of conditioning drills. Afterwards download your data to view your heart activity after all of the madness.
The truth is that after engaging in all of this you don't need a heart rate monitor to tell you that your cardiovascular system has been kicked into overdrive because your respiration will noticeably be in high gear and you'll feel like you're sucking more wind than a 747 Turbine. You know you don't need some device to tell you that and with that reminder you know that any coach or trainer that denies the possibility of doing CARDIO after a strength training session is full of a big 'ole pile of you know what!
Remember a cardio session may not be a form of steady state "aerobic" type training such as going out for a 20 to 30 minute jog, but the cardio demands you get from a structured strength program fluctuate up and down with a combination of aerobic and anaerobic working points. You can still go out and pound the pavement for a long run, but to say that you are NOT achieving any cardio benefit from a strength program (particularly a very dynamic one) is just totally not true.
It's all in the wording and how someone communicates something to you can influence you and that's all I'm trying to point out. Remember whenever someone makes a bold pitch that seems too good to be true it usually consists of what is said, then about 50 lbs. of crap, and then buried at the very bottom is finally the truth! I'm just trying to hand you the shovel so that you can dig for the truth my friend.
If you need help digging a little further then make sure you sign up to join my FREE Knowledge list HERE. It's totally FREE plus you get a killer training guide and much more that'll help you find some more truth in your strength and cardio conditioning program! Please post up in the comment section below. Remember that most anyone can train hard, but only the best train smart my friend.
Related Articles: 
Knowing Your Energy Systems…Strength Training For A Purpose!
Epic Mental Fail…Strength Training Tragedies Revealed! 
How To Master Any Physical Skill…
The Many Faces Of Strength…What's Yours? 
The "Getting Ripped Without The Cardio" Myth…