Like A Road Warrior…Some Supercharged Interval Training For Athletic Performance!
As you know I'm a huge movie fan, especially if it involves a classic action hit! One classic movie series that I have always enjoyed was the Mad Max series. If I'm not mistaken the original series starring a young Mel Gibson began with Mad Max followed by the sequel Mad Max 2  aka. The Road Warrior, and then ended with the final piece of the trilogy Mad Max Beyond Thunderdome.
These movies are just chocked full of AWESOME so if you haven't had the fortunate opportunity to see these by now then make it a point to put it on your schedule of To Do's. Now on to the topic at hand. This weekend I headed out to the track to blast out some strength lifts followed up by some intense sprint intervals! It was brutal. Oh and just in case you were wondering I am going to some how tie this into the Mad Max reference so just keep on reading for the details!
Supercharged Intervals For Athletic Performance…
So Saturday I took the new GoPro camera out for a test run to put it to use during one of my supercharged interval training sessions out at the track. I like incorporating these highly intense intervals because they are structured for working on building tremendous work capacity, along with speed, and power development. This cardio session was brutal.
The interval workout that I did on Saturday consisted of a dynamic warm up, followed by 5 rounds of 20 rep kettlebell swings each immediately followed by a 50 yard sprint. Next I hammered out some kettlebell jerks for 5 rounds followed by more 50 yard sprints. Finally, I did some variation push ups followed by some stadium sprints up the home side at North Gwinnett high school next door to me over here in Suwanee. By the way this stadium is freaking HUGE! These were brutal ball busters to say the least. Check out the final cut here in my video:
You see what I mean? The reason I wanted to post this (besides putting the new camera to work) is that I wanted to demonstrate a type of interval training session that is designed to build on both athletic performance and serve as a tremendous means to fitness for the regular fitness junkie. If you're an athlete at any level this is a tremendous method to build on your athleticism, but it's also very beneficial if you just simply want to be in better shape.
Interval training is defined as type of physical training that involves a series of low to high intensity exercises interspersed with rest or relief periods. The difference here is that I combined 2 very intense drills (heavy kettlebell swings, jerks, etc.) with highly intense sprint intervals. I will tell you that I've had vast experience in training using different training modalities and different tools in the trade for different purposes. The point I'm getting at is that with all the things that I've used for physical training I don't know of anything that challenges my cardiovascular system as quickly as these intervals that I just demonstrated to you. I mean if you want to get your heart rate up and challenge yourself then you need to give these a try!
In addition to that the load demands of lifting in combination with running is a great way to develop sprinting power! The beauty of this is that it ain't rocket science in structure, but it is absolute HELL in execution! Just like the Road Warrior it will supercharge your athletic performance. So Brandon what do you mean about the Road Warrior reference?
Well, in the second movie of the Mad Max series (The Road Warrior) a post apocalyptic world drives men to battle one another for the highly sought after remains of fuel. Mad Max is sort of a loner that is a total bad a*s driver on the very dangerous and very battled post apocalyptic roads. His car has a supercharger that he can flip on with a switch in a famous chase seen during the movie when he is battling with a group of thuggish road gangs. I know it's ridiculous, but it's entertaining.  This is Driver's Ed. 101:
Now that's what I'm talking about. By they way that was really a video of me here in Atlanta traffic! Ok, I'm not too far from reality here. Anyways, the point is that if you can integrate interval training into your program the way I demonstrated here you can flip on your supercharger of athletic performance. It will give you the edge you are looking for.
I hope today was both entertaining and informative and if you are still hungry for more then please make sure you get your copy of my Brandon Richey's Better Than Steroids ebook right here.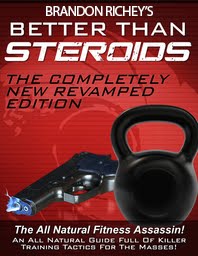 Just remember that if you also happen to be a fan of the Kindle readers and Kindle Apps then you can get your copy of the ebook here for that as well. Remember that most anyone can train hard, but only a Road Warrior trains smart my friend.