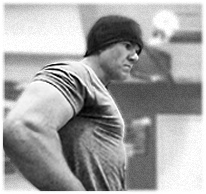 How Do You Know If Kettlebells Are For You?
As a strength and conditioning professional I get questions everyday through emails and in public about kettlebell training. First of all, if you are thinking about getting into kettlebell training and figuring out where you can go to buy kettlebells take a minute to read this.
Contrary to the way most americans are used to training kettlebells are completely in a different world in terms of fitness. When most people think about working out they think about hitting the gym for an "arm day" or a "leg workout day." They have specific body parts in mind when going to workout. Kettlebell training doesn't work in this way. You see kettlebells are "movement specific" not "body part specific."
Kettlebells actually amplify everything that our body's are naturally made to do by handling a resistance through movement based lifts. This is why kettlebells are great for men and women. If you are looking into starting kettlebell training then you have to be aware of this major difference. Now having said that if you are open minded and willing to endure a bit of a learning curve then you are half way there. The other half is that kettlebells are challenging. To be quite honest, being a professional trainer and knowing how most people workout they are too lazy to train with kettlebells.
The thing that makes kettlebells so great is that they will give you a tremendous workout. The downside to that is that most people don't like to break a sweat like that other than athletes and serious fitness enthusiast. The bottom line is that you have to ask yourself which category you fall under. Now knowing these few things that I just laid out before you hopefully you know where you stand in terms of kettlebell training.
I promise you that if you fall into the category of being a kettlebell man or woman you will be blown away by the results. If I were to explain the benefits of kettlebell training to you it would take several more articles! For all of your other questions about kettlebells check out my profile and access all of my articles. Remember to train hard, but always train smart my friend.