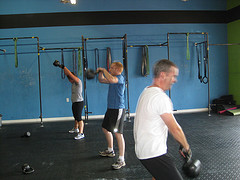 Gridiron Dominance – The Single Best Football Workout Program is Here!
Football workout routines should consist of making you mean, big, fast, strong, and powerful. If your program isn't covering all of these aspects then it is lacking as a whole. Football is about exploiting your opponent's weakness so you can dominate them at any given time. One weakness that you can take complete control over and prevent is your level of strength and conditioning.
Lets face it, about 4 or 5 series into a drive you are huffing and puffing in a competitive football game. There is no room for being out of shape. If you are then your opponent will see this as an opportunity to whip your butt on every play. Play after play you can get beat down causing the game to spiral out of control if you are not properly conditioned. This article was written to prevent that from happening. If you want to be the guy on the other side of this situation looking at a poorly conditioned opponent then continue reading.
If you want to take your football workout routine to a whole new level then you must include kettlebell training into your personal program. By now you may have heard of this ancient style of training and realize that it has been around for over three centuries and the world's greatest athletes and strongmen have taken advantage of it to the fullest extent! This style of training is dynamic in nature and works to mold your body just like a blacksmith would mold a samurai sword out of a hunk of steel. There is no mistaken the overwhelming benefit of obtaining explosiveness, speed, core strength, power, and total body resiliency for football. Kettlebell training will provide this for you as well as anything. By learning to perform some of the base lifts such as swings, snatches, and turkish get ups you can almost center an entire strength and conditioning program around these 3 lifts.
If you haven't taken the time to incorporate kettlebell training into your football strength training workouts then you are only holding back your progress. Football conditioning exercises must be intense to be effective and there is no better way than with kettlebells. Remember that anyone can train hard, but only champions train smart my friend!