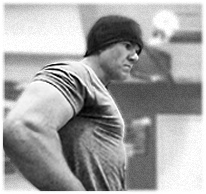 Total Body Explosion – A Single Hard Hitting Exercise to Help You Get Ripped Fast!
In order to create a workout to get you ripped fast you must included exercises that train whole body movements and yield a high level of physical exertion. The double arm overhead kettlebell swing is an exercise that fits this mold to perfection! Apply this drill to your workout program to build crazy lean muscle and get your body ripped now.
The double arm overhead kettlebell swing is a powerful exercise to build you tremendous core strength, total body muscle mass, explosiveness, and the cardiovascular conditioning of a race horse. There is no down side to this hard hitting kettlebell exercise. To perform the double arm overhead swing pick the kettlebell up with both arms. Make sure that your feet are about shoulder width distance apart in length. From here you must initiate a technique performed in kettlebell training known as the hip snap. The hip snap is performed by you constantly and fluently having to flex and extend at both your hips and knees. This motion is necessary in helping you to create the momentum you need in order to swing the kettlebell back and forth in an arc like motion. As the kettlebell builds momentum allow it to gradually gain enough height to swing all the way up to above your head. It won't take long before you realize just how challenging this lift can be even with a moderately heavy bell.
If you haven't gotten acquainted with the kettlebell then you are only holding back your progress to get a ripped body and a ripped six pack set of abs! I'll even make it easy for you by asking you to access the rest of my articles on the matter for free. Remember that anyone can train hard, but only the best train smart my friend. Give it a try.