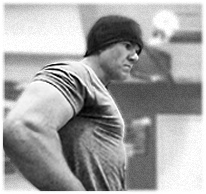 Deep Squats – 2 Methods to Teach You How to Execute Deep Squats!
In order to get the most out of developing superior muscle mass and the strength to match one must learn how to increase their range of motion. This is where one of the best exercises for building lean muscle mass like the squat is no different. You must teach yourself to increase your strength, flexibility, and range of motion by practicing. You must implement techniques that enable you to progress and to eventually accomplish these very tasks. Take a look at these 2 particular methods that you can implement in order for you to achieve blasting out deep squats.
1. Raise the toes: This is an interesting method one can put in place to modify their strength training program as it pertains to their squats. If you normally do variations of squats (front squats,overhead squats, back squats, dumbell squats) then you know the proper foot placement and technique you have to take to do the squat correctly. Normally you probably only execute parallel squats. The next time you squat make one simple adjustment in your squats to immediately increase your range of motion. Simply get a board or a couple of small 2 1/2 or 5 lb plates to place under the balls of your feet with your heels still on the ground. This will immediately start training your body to increase in the range of motion throughout the exercise further increasing the motion of your deep squat or full squat technique.
2. Adjustable Bench or Box Squats: This is something you have probably used in the past in order to mark the depth of your squats. You probably got a lot from it and developed more lower body strength as well. This is a great little method that you can use in order to be conscious of your total squat depth. As you build leg strength at a certain depth keep lowering the bench or box to go deeper. This will help you to develop the necessary muscles to stabilize and hold your body throughout the movement.