300 Rep Kettlebell Workout For Optimal Physical Function
Are you interested in adding serious kettlebell training to  your strength and conditioning workouts? 
Are you interested in building lean muscle, powerful physical function, and tremendous cardio conditioning? 
Do you look to completely transform the way you train your body? 
Are you looking to physically prepare for a sporting event, a physical test, or a physically demanding job? 
Today's post is going to be challenging, yet straight to the point with the 300 Rep Kettlebell Workout. So what is involved with the 300 Rep Kettlebell Workout? How is this workout structured? 
300 Rep Kettlebell Workout
The premise of the 300 Rep Kettlebell Workout is that you are able to perform a combined number of exercises with a total rep count of 300. If you're looking to challenge yourself with this workout I would recommend that you be proficient with several of the base kettlebell movements.
This is crucial because you must be able to handle the kettlebell with solid technique as you will be performing a giant circuit here consisting of several kettlebell exercises back to back in this workout. 
The objective of this workout is to select 10 different kettlebell exercises performing 30 repetitions per exercise. In this version I'm also going to include the typical warm up and a few conditioning drills to get the body prepped for some serious work time. 
For this workout a general recommendation would be for men to perform it with a single 20 or 24 kg bell. For women it could be either a 16 to 20 kg bell. Of course whatever you think is best for you just go with it! The key is to make sure you that you are able to cycle through each exercise by executing the reps with quality. 
After you complete the warm up portion of the workout start a timer to begin your first working set and stop the timer when you complete the 300th repetition. For this workout you can document your time and then try to beat the time the next time you run the 300 rep kettlebell workout.
Just keep in mind to NOT rush through the drills compromising lifting technique for the sake of finishing with a quicker time. Shabby lifting technique defeats the purpose of  this circuit, or any lifting program for that matter. Maintain great technique and get through the exercises as quickly as you can without breaking down your technique.
300 Rep Kettlebell Workout Warm Up:
Jumping Jacks:  3×50
A Skips: 15 R&L Legs
B Skips: 15 R&L Legs
Kettlebell Static Groin Stretch: 1 minute
300 Rep Kettlebell Workout: The Workout
Kettlebell 300 Workout: Note: Start your timer and allow it to run until you complete the last repetition. Also make sure that fatigue doesn't diminish your technique to the point that it could risk injury. Take the extra time to stretch and even perform a couple sets  of warm up swings before starting. Remember that this workout can also be scaled to fit your current level of fitness. For this particular circuit you will perform with a single kettlebell. 
Double Arm Swings: 30
Single Arm Swings: 30 (Right: 15 Left15)
Single Arm Rows: 30 (Right:15 Left: 15)
Snatches: 30 (Right: 15 Left15)
Goblet Squats: 30
Swing, Clean, Press: 30 (Right: 15 Left: 15)
Push Ups (One Arm Staggered On The Kettlebell One Arm On Ground): 30 (Right: 15 Left: 15)
Swing Cleans: 30 (Right: 15 Left: 15)
Squat To Press: 30 (Right: 15 Left: 15)
Suitcase Deadlifts: 30 (Right: 15 Left: 15)
Finished. Record your time and post it up below in the comment box! 
300 Rep Kettlebell Workout: The Takeaway
Before jumping on the 300 kettlebell workout I would strongly recommend that you train to build proficiency with all of your kettlebell lifts due to safety. Work to build a strong baseline and progress from there to challenge yourself.
Are you currently utilizing kettlebell training in your own workouts? 
Have you ever done the 300 rep kettlebell workout, or a similar variation? 
How many days a week do you train with kettlebells? 
If you need an introductory to kettlebell workouts make sure you take advantage of my new 30 Introductory Kettlebell Workouts. These 30 workouts are a great start to your kettlebell program to build you up to the 300 rep workout!
CLICK HERE TO ORDER MY BRAND NEW 30 DAY INTRODUCTORY KETTLEBELL WORKOUTS
Also if you want to learn how utilize kettlebells to give your training a serious upgrade then make sure you check out my brand new 120 Day Functional Fitness Training Program right here below! I guarantee it'll get you into the best shape of your life, or I'll give you your money back no questions asked.
CLICK HERE TO ORDER MY 120 DAY PLAN TO POWERFUL FUNCTIONAL FITNESS!!!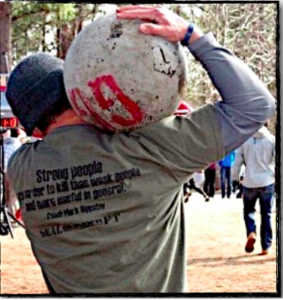 Related Articles:
3 Must Have Single Leg Exercises For Strength And Stability
3 Functional Strength Drills For Fitness And Performance
4 Guaranteed Ways To Get A Functionally Strong Body
5 Unique Strength Drills To Enhance MMA Performance And Serious Fitness
3 Steps To Build Your Turkish Get Up For MMA
3 Push Up Variations To Give You Knock Out Punching Power For MMA And Combat
---
Click on all images below…
If you're looking to enhance your fitness for MMA and martial arts then make sure to check out my
90 Day MMA Strength And Conditioning Program Here.