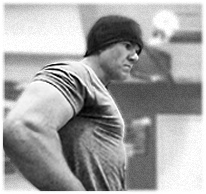 Vertical Jump – 2 Simple Steps to Increase Your Vertical Jump!
I want to start by trying to get your attention really fast. What if I told you that I could guarantee that you could increase your athletic strength to increase your vertical jump by almost 2-3 inches in just 3 weeks? Not only can it be done, but the 2-3 inches is the low end of the guarantee. I have seen others jump as much as 4 or 5 inches in the same time. As I explain in the steps to follow pay close attention to what I am trying to teach you. Understand that what I am talking about is obtainable if practiced flawlessly, consistently, and frequently. Note that everyone has varying levels of athletic ability and each drill can be modified from low intensity to high intensity depending on the individual level of the athlete.
Step 1: To begin, the vertical jump is a well-known measuring stick for athletic performance. It is a measure of core strength and leg power. Because it is a measure of these two physical tasks these are the two areas that have to be focused on in an attempt at increasing one's vertical jump. "What doesn't kill us makes us stronger!" Well after you attempt these simple, but gruesome drills you will completely understand that old saying. First you must include a variation of plyometrics.
Plyometrics involve specific exercises that stimulate the body's nervous system and cause the muscles to stretch and shorten by contracting in rapid succession. Some good examples of plyometrics involve bounding over hurdles, box jumps, single leg bounds, and squat jumps. The plyometric exercises that I want to recommend involves a series of box jumps and squat jumps. Depending on your level or ability you can start with box jumps with a height range from 12 inches all the way to 24 inches.
If you don't own these they can be easily constructed with plywood. The most effective progression can be multiple boxes starting at the lowest height of 12 inches and increasing every 6 inches to the highest box at 24 inches. From here you can structure your box jumps however you like, but be sure to obtain a volume of repetitions that total 80! This is an average of 20 repetition jumps at each box height. When you jump from the ground to the box you should be executing a perfect squat jump. You should be landing on the box each jump with your feet at about shoulder width distance and absorbing your landing each time by making contact with the box heal to toe. To intensify this drill you can execute the jumps by adding some kind of resistance. Holding a pair of dumbells is an excellent way to do this. Note that for optimal results these should be practiced at least 3 times per week.
Step 2: The next area to target is going to be the development of core strength. One way to do this simply in the comfort of your home or in your front yard is by doing planks. Planks involve lying prone (or face down) on the ground with only your elbows and toes (or balls of your feet) touching the ground. Your body should be perfectly straight and rigid like a plank or bridge. This is a static hold and you can start by minimally doing each set for 1 minute! Friends these are intense. You should do these on the days you do your plyometrics. You should also complete 3 sets of 1 minute in week one. Each week you should increase a minute working up to 3 minutes per plank for 3 sets in the third week!
These two steps will undoubtedly improve your conditioning and vertical jumping power. Remember that this is only a basic home drill and is merely a taste of the main course. Further modifications to this and other areas of your program can drastically improve your overall athletic performance.