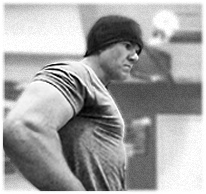 The Truth About Kettlebells and Athletic Performance!
The kettlebell is an ancient strength and conditioning device that is great for helping you to achieve just about every characteristic of fitness and strength that is necessary for you to have in athletic competition. If you are an athlete then you need to be training with kettlebells. If you don't then in my professional opinion you are doing yourself a disservice.
Being a strength and conditioning specialist I regularly get questions about the kettlebell. I am constantly seeing articles and blogs with some guys saying the kettlebell isn't as good for athletic performance and others that say you are better off with dumbells and barbells. As a professional I will tell you with 100% confidence that the kettlebell is awesome in building athleticism in your body no matter what sport you play! At the same time, I'm not saying that you should replace barbells and dumbells with the kettlebell. The smart way to train is to structure a strength and conditioning program that contains a healthy dose of many strength training devices.
However, the kettlebell should be a large part of any smartly structured athletic strength and conditioning program. The types of exercises that you can do with the iron bell incorporate hundreds of muscles that are trained through resisted movement. This is how kettlebell training is designed. It is the art of resisted movement. The body's muscular system consists of a chain of connected muscles that work together in harmony to produce that wonderful action we like to refer to as "movement!" The cool thing is that they are REALLY forced to work together in movement when there is some sort of external load or resistance to handle in the process! This is why the kettlebell is so effective. Resisted movement produces traits that are consistent in the development of strength, speed, power, and well rounded conditioning. That is a fact!
The bottom line is that if anyone tries to tell you that the kettlebell is not good for your athletic strength program or it isn't specific enough to your sport then simply look at them like they are an idiot and turn and walk away. If you happen to have a trainer that tells you that then ask him or her for a refund on your money and turn and walk away! Train hard my friends.