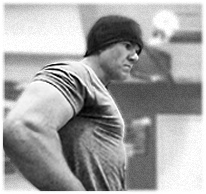 Three Solid Reasons You Should Invest in a Kettlebell!
Kettlebells are a seriously hard-hitting fitness tool! If you are waiting on something better to happen with your fitness and strength program then you will be waiting for a long time. I am here to tell you to go ahead an make the investment. Here are 3 very logical reasons why you should invest in this dynamic fat-loss and weight-loss tool!
Reason 1: The Physical Benefits: Yes, this is the obvious reason to invest in the iron bell. A ton of benefits can be obtained from using this ancient tool. If you have even started to scratch the surface of kettlebell training then you already should know that an array of physical benefits can be obtained ranging from strength, flexibility, cardiovascular fitness, resiliency, and joint mobility. These are all necessary when formulating an effective fitness program.
Reason 2: It's The Total-Body Gym: If you have read any of my other material you know that there are tons of exercises that can be performed with the kettlebell. Your investment in the iron ball will more than pay for that gym membership, because you won't need it. The beauty of training with kettlebells is that you can do it just about anywhere. You can cancel those gym fees and get it all done with the gruesome iron ball! All you need is some open uninterrupted space and the will and knowledge to work. Even performing the base lift of the kettlebell known as the double-arm swing you work over 80% of your body and are involving hundreds of muscles at once! This is as efficient as you can get when it comes to working out!
Reason 3: The Most Bang For Your Buck: Yes, kettlebells do run a bit more than your traditional dumbbells. General weights such as dumbbells and plates can run around the neighborhood of a dollar per pound. The kettlebell is getting up over the 2 dollar per pound margin. Now before you stop reading consider what you are paying for. This cost is based on traditional cast iron bells. For one you are going to spend a hell of a lot more money on a treadmill, elliptical trainer, or full weight set that will definitely take up a ton more space! A kettlebell or even a couple of bells can simply be slid behind your bedroom door or into the closet when you are finished. Space is not an issue. More than likely you will have to pay for some sort of general maintenance or warranty on those other pieces, but this is not necessary with the iron bell my friends. Trust me, even if there is a nuclear apocalypse the only thing that will be left intact after the dust has settled will be your kettlebell! Go ahead and give it a shot.