Strength Tip Of The Day…Survival Strength
by: Brandon Richey
Strength Tip Of The Day…Survival Strength
This past weekend me and my fiancé went to see the new movie Lone Survivor with Mark Wahlberg. The movie is based around the real life experience and book Lone Survivor by Marcus Luttrell. Lone Survivor tells the story of four Navy SEALs on a mission to kill a Taliban terrorist and end up getting surrounded and into a violent firefight with hostiles in a mountainous region of Afghanistan.
Survival Strength…
This movie definitely had some gut wrenching scenes that were tough to watch, especially knowing this was based off of real life. Those men never ever ever gave up on the side of that mountain and displayed a level of strength and courage that pierced me to the core. I've got to admit that it inspired me to write this post because all of us fight battles, but somebody always has it worse my friend.
So what is survival strength? Well I figured I would focus in on the true identity of strength/fitness for today. You see contrary to popular belief the true purpose of strength is about being able to move well, to lift stuff, to throw stuff, and to acquire physical skills to help us to survive the demands of our environment. 
Get yourself some of these to help out with adapting to your environment!
One of the readers to my blog and a great example of "being fit for his environment" (Doc) had commented on one of my post a while back referencing an Anthropology professor quoting him as saying "There is no such thing as survival of the fittest as there are many kinds of fit." –(Dr. Fernandez). This is a very true statement because our environment generally influences the type of fitness we should be obtaining, which by the way may say a lot about America's current obesity epidemic, but I digress. 
The point is that Doc brings up a very important observation in terms of acquiring strength based upon one's environment, situation, and need. The circumstances change and so does the approach of one to acquire the skills he/she should have in order to thrive in their particular environment. This is the purpose of survival strength. 
Look I don't want to come across sounding like a Doomsday Prepper or anything, but the fact is that there is always a need for survival strength as long as there are humans, period. I don't care how "civilized" or how "progressive" a so-called society is human nature is human nature, and believe me the shit can always hit the fan! The point is that it's natural for us to seek out trying to be the strongest and fittest that we all can possibly be for ourselves because that's what we're designed to do. 
Here's a great resource for you to learn more about becoming the strongest/fittest version of yourself!
If you disagree with that then take a look at this little video here of my good friend and retired Navy SEAL Brad McLeod demonstrating and talking about some basic survival moves he's always done outdoors. 
Now do you get an idea of what I'm talking about? You see survival strength is a necessity and you can acquire it by training in your natural environment, but if you use the luxury of a gym then you just need to understand how to produce the proper training stresses in order to provide you with the physical skills you need to thrive in your environment. 
The key to developing a sound level of survival strength is making sure to implement some high end functional lifting. Being able to squat a gazillion pounds is great, but once you do then you better be capable of dragging a sled, running, and throwing a medicine ball like Vince Vaughn in the movie Dodgeball. 
In order to acquire a sound level of functional strength and cardiovascular conditioning a healthy dose of kettlebells and interval sprints can never hurt. Check out this little interval training video I did a while back out at the track. I know it's not the forrest, but it is me utilizing what's around me in order to acquire a sound level of functional strength and a respectable level of cardiovascular conditioning. 
One of the key things to remember about your own level of fitness in order to acquire a solid level of survival strength is to work on mobilizing your joints, particularly your hips and shoulders. You see our "modern environment" has really worked to damage our shoulders and hips due to lifestyle factors relating to the prevalence of jobs that require the act of sitting. 
Sitting and remaining stationary for hours on end is a true killer to optimizing our mobility because our bodies literally develop for the act of "sitting." This is the one example where it is NOT a good idea to train your body for it's environment, in other words allowing your body to adapt at being a bump on a log inside the four miniature walls of your cubicle. Work at moving, stretching, and teaching your body how to perform fundamental movements involving the act of squatting, bending, twisting, etc. 
Check out this resource for helping you to ramp up your functional training needs!
At the end of the day ask yourself if you are working at acquiring your own level of survival strength? Every level of athlete understands the importance of this. Football players, baseball players, MMA fighters, and especially the elite Navy SEALs understand this more than anybody. Why not apply it to yourself? 
I understand many people may think that they have a lack of resources and may not know how to go about acquiring the survival strength they need to be fit for their environment. Well no problem my friend because I want to invite you to take a look at how I can help you to recognize and use what resources you have around you by inviting you to check out my Brandon Richey's Unconventional Conventional Method Of Strength ebook.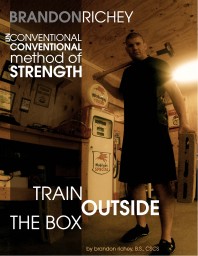 This is a product where I show you how you can acquire a high level of functional strength along with doing so applying the use of tools and objects that you can use right out of your garage or basement. 
I hope you enjoyed today's post and if so then please feel free to leave your questions and comments in the comment box below this article. Remember that most anyone can train hard, but only the best train smart my friend.
Related Articles:
Like Anything Else…Strength Is A Skill 
Strength Tip Of The Day…The Push Up
The Physical Learning Curve…An Out Of This World Experience!
Strength Tip Of The Day…Survival Strength