Strength Stuff And Other Fitness Products You Might Want To Buy!
Like me you are probably being constantly bombarded with information everyday of your life. What is the best product? What is the latest and greatest product? What will help me the most, and on and on and on. I know it gets old which is why you need to be able to think your way through all of the BS!
In thinking your way through all of the BS you may need help by getting other perspectives on certain things. In my book this is where a product or service earns it's value. It's all about the perspective. This is why I just included a short list of some things that may help to give  you that little "bit" of perspective and even a little more to help you out in your strength and conditioning program.
Some Different Perspective And Some Different Products…
Well if you need perspective or a point of view then you know ole BR has got your back! Besides all I'm ever doing on this site is giving you my perspective and how I see things in life, in training, and in getting things done. By giving you a peak inside of my head hopefully I'm contributing a little something to helping you shape your own opinion towards your journey of fitness and strength. So I'm going to attempt to do the same thing right here with some of these fitness products to help you better decide about what you think will work for you or not.
1. Power!: Power is a tremendous DVD that breaks down how to go about developing explosive power for athletic performance. I am always working to create and advance in new ways to teach my students how to go about developing explosiveness and quickness. There is more then one way to skin a cat! 
The key is understanding the basics in developing power. A great base line of strength is very important and once that is established then you can start getting creative about power production. This is just like  building a strong dam before using it to produce power. It's got to be capable of withstanding the stress of the lake while also functioning efficiently! This DVD fitness product will help you with that kind of perspective.
2. Functional Training For Athletes At All Levels: For another fitness product with some additional perspective I decided to turn to the University of Oregon Ducks strength coach James D. Radcliffe. If you follow college football then it's no secret to you as to how quick and explosive the Oregon Ducks are with their program.
I mean these guys (or Ducks) snap the football to run a play every 13 seconds! That's just incredible. You better have a conditioning program second to none if you expect to keep a pace like that or you'll be wheezing your way off the field in a hurry my friend. This is why I thought I would throw in the Functional Training For Athletes At All Levels book for you. Coach Radcliffe offers a ton of information in all of his products and this one is no different. Make sure you load this fitness product into your shopping cart! Besides nobody enjoys wheezing.
3. The TRX: The TRX suspension training system is a tremendous tool to add to your list of fitness products. It is a suspension system that consists of straps that are portable and can be hung from a door, from a tree, or from a bar. From here you can get very creative and very dynamic with your strength training program by engaging in a battery of bodyweight drills to get yourself into some serious shape by utilizing the suspended straps. It's challenging and requires a lot of stability on the part of the user so that swinging and flailing are avoided during use. Oh yeah, it's also a lot of fun! You need to get this one.
4. Kettlebells: Ok duh! I have bought and used many brands of kettlebells, but dragondoor bells are among my favorite. They are rust resistant, durable, they don't chip, and are straight cast iron. These are tough bells and generally carry a pretty consistent design once a certain average to above average weight range is reached in more advanced training. This provides more consistency when it comes to handling the bells which serves your strength training program well. If you don't have your own set of bells then what in the heck are you waiting for?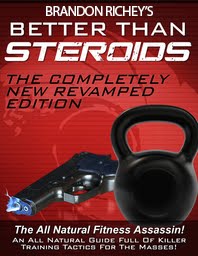 5. I'm not going to say anymore! 😉 
I just wanted to give you a snippet of my point of view on some of these different products. If you are looking for something to help give you a little something "extra" in your strength and conditioning program then hopefully this was helpful. You can click any of the banners directly to get to these products. Remember that most anyone can train hard, but only the best train smart my friend.