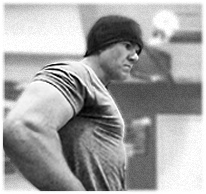 Push-Ups – 2 Tips to Triple Your Number of Push-Ups in 3 Weeks!
So you are wondering how to increase the number of your push-ups by 3? I'm going to give you a rather simple formula that you can follow that will definitely allow you to do this rather quickly.
Tip 1: The very first thing that you need to do in order to figure out how to improve your total number of push-ups is to test yourself to find out how many you are capable of doing. You'll want to do as many as you can to failure. I'm going to assume that your technique is sound and that you have a legitimate test and knowledge of your true number. Make sure that your range of motion is full and that there is NO cheating during the test. So once you have your number now its time to move on to improving it!
Tip 2: For the sake of argument lets say that the most you are capable of doing is 10. So the magical number that we have to work with is 10. Now from here on out you will practice your push-ups 2 to 3 times a day everyday of the week! Yes, I said 2 to 3 times a day everyday. Now we have determined, for the purpose of this article, that the most you can do is 10. So every time you go to practice your push-ups you won't do 10, but rather only about 5 or 6. Now this is the secret because by doing this you are not training the muscle to failure and you are only doing a single set. The key here is that you will be doing this single set of 5 or 6 reps 3 times a day! This means that the volume of your push-ups are ranging between 15 and 18 per day! By now you probably see where I'm going with this. After about a week you'll find that practicing your set of 5 or 6 will become easy so this is where you'll want to start to practice more like 7 or 8 up to 3 times a day. From here you will eventually be able to practice 10 or more multiple times a day. This is where your overall number can be tripled or more in such a short period of time.