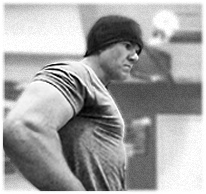 Mega Fitness With Kettlebells!
If you are looking for a way to get on the fast track to achieving big time results then stop wasting time and start taking action right here. If you implement the following 2 kettlebell drills into your personal program you will quickly achieve a superior level of both fitness and strength!
1. Kettlebell Squat Jump Cycles: For this particular drill you will need a pair of kettlebells of light to moderate resistance. Make sure that you start on flat ground. Start the drill by standing with your feet about shoulder width distance apart. Hold a kettlebell in each hand at your sides. Next perform a series of continuous squats. Perform 5 repetitions of squats in continuous motion and then on the sixth one cycle into immediately doing a series of squat jumps for 5 repetitions. Once you complete the 5 jumps immediately cycle back to doing 5 squats again. Keep transitioning back and forth between these movements until you complete 30 repetitions! You will achieve a high level of both cardiovascular fitness and muscular endurance.
2. Dual Kettlebell Clean And Squats: For this drill you will need a pair of relatively heavy kettlebells of equal weight. Start by setting the bells on the ground between your feet. Make sure that your feet are slightly wider than shoulder width apart. Squat down and clean the bells to your chest. Perform deep squats for a series of 5 repetitions. Once you reach the 5th rep simply set the bells back on the ground and immediately clean them to your chest to do 5 more deep front loaded squats! Repeat this 3 times and watch your body achieve a mega level of fitness. Give it a try and train hard.