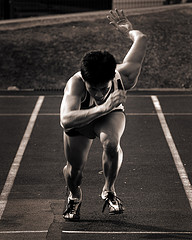 Kettlebells and Building Speed!
Muscles are funny! They will respond to whatever training stimulus that you place on them. Its like working with a child or a pet to some degree. In other words, if you train your muscles for size characteristics then muscles will give you size characteristics, if you train for strength characteristics then muscles will respond by getting stronger, and if you train them to be explosive and quick in nature then they will respond accordingly. Whatever you want your muscles to do you can exercise and condition them to do it. So for the sake of this article I want to point out how kettlebells will get them faster!
The key to any of the characteristics of specific muscular development is strength. I have said that tension is the key to building strength. Kettlebells are a great way to tension the body and build strength. The great thing about kettlebells is that they can be manipulated and structured in such a way as to build on brute force strength, as well as, explosive muscular power. This is how they can help you to build on your speed and athletic performance. When you execute what I like to call strength endurance movements such as double-arm swings, single-arm swings, and overhead snatches you engage your body to produce a great deal of quick explosive movements.
This particular type of lifting with kettlebells enhances both your base strength and your overall conditioning. These "quick" movements produce that power you need in order to be fast and quick. It keeps your body "sharp" so to speak. It does this by stimulating your nervous system thereby training your body to perform quick explosive actions with an additional load. This is how you get faster, because if you can perform these quick explosive movements with an additional load then you won't have any problem moving your own body-weight around when its time for competition!
To enhance your speed you need to utilize the power of kettlebell training. Feel free to read my other material on kettlebells and how you can develop more of whatever you want, and how to teach your muscles to do it.