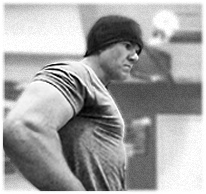 Kettlebell Strength – Strength Endurance Training Movements!
Basically you have to know that there are different movements involved when doing different lifts. I have addressed the concept of slower tension related movements in one of my other articles so for this one I want to talk about strength endurance related movements. When talking about kettlebell training these movements are more for generating a high level of perceived exertion which in turn yields a high level of conditioning.
To start, when I talk about strength endurance related movements I am referring to lifts such as the commonly known double-arm swing, single-arm swing, and overhead snatch. These aren't all, but they are some of the more common related lifts. If you have ever executed these with the kettlebell then you understand that they produce tremendous cardiovascular conditioning and make weight-loss an easy task! These type of faster executed strength endurance lifts are great for alternating with the slower tension related lifts. By doing this you give your body overall balance and challenge it to keep adapting for optimal strength and fitness gains. The faster movements also stimulate the nervous system giving you sharper more forceful muscular response and contraction!
The key to lifting with kettlebells or any other form of strength training is to make sure that you are covering as many of the different types of movements as possible. This will ensure you a great deal of success in obtaining the highest level of your personal level of fitness. Be diverse in your training and utilize the kettlebells in every way you can!