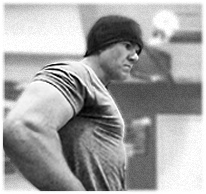 Kettlebells – 2 Great Lifts to Increase Your Lat Strength!
The kettlebell as you may or may not know is the ultimate hand held gym. You can use this fitness tool to manipulate your body in many ways to get specific results that you desire. For instance, you can develop superhuman lat-strength with this device with just 2 lifts.
1. High-Load Windmills-You may be familiar with the traditional stretch of windmills to target flexibility of the shoulders, hips, glutes, lower back, and hamstrings. To do this correctly proper technique must first be learned, but the same stretch can be intensified with the kettlebell in the hand that is above the head while you are basically bent over to one side. The normal windmill is executed by starting with your feet slightly narrower than shoulder width. Next, for the sake of argument, we'll assume you are doing the right side. The bell is pressed with the right arm above the head with your left arm tucked behind your back. Then you angle both feet diagonally with your toes pointing left or away from your right. Keep the right arm with the bell locked throughout the entire movement. Next you push your hips back favored towards the right and lower your torso to the left keeping your right leg straight. The movement should go down with a great stretch in the right side of your body before coming up. As you ascend in the movement you will feel the lats engage with the weight of the bell.
2. Loaded Lat-Press-This lift is performed exactly as the windmill is described above with the exception of you starting the bend of the torso with the bell being held in the "clean" position. As you bend allow the bell in your right hand to somewhat retract your shoulder-blade. You want to simultaneously press the bell as you are descending in the movement. Once the shoulder is locked out then simply stand back into it as you did with the windmill exercise. You will develop tremendous lat-strength by including this in your fitness training program.