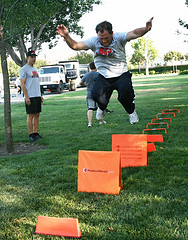 Kettlebell-Plyometric Combo – One Evil System of Total-Body Power!
I have written many articles on kettlebells and kettlebell training. I have also done as much about plyometrics. This particular article is going to be an informative piece on both awesome training options.
To begin, I want to say that between performing kettlbell lifts and executing plyometric drills an individual with an agenda can transform his or her body into one amazing athletic piece of work! I want to talk about a method of how to combine the two training variables into a hard-hitting workout. This can be done many different ways. I only want to address a couple of methods in which you can take and put your own spin on it, or modify it the way you want it to fit your program.
One way to combine both methods is to superset the two exercises. For this you will want to execute a kettlebell exercise and then immediately without rest execute your plyometric drill. You will find this method to be hugely effective. A second method would be to execute almost a circuit or mini-obstacle course of physical torture. This method could be set up with as many exercises as you like with you alternating between kettlebell and plyometric drills. This way you go from one thing to the next in a continuous circuit. This way you get huge development from lifting with the kettlebell and then explosive movement from hitting the plyometric drill. You will also obtain insane conditioning from this training method!
There is no doubt that your cardiovascular conditioning, strength, and overall fitness will be significantly developed from a plan like this one. Put this into action and quickly learn why it is one evil system of total-body power!