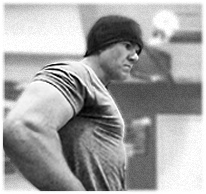 Kettlebell Drills For Women – 2 Exercises For the Female Kettlebell Beginner to Get Huge Results!
I must say that lately I have been getting lot of questions from the hardcore female fitness enthusiast about kettlebells and this really excites me. It has taken a while, but I guess I am starting to make sense to the ladies that are at least open-minded on different methods of training. Because of this I have included 2 base drills below to help you ladies who are also hungry for more information on kettlebell training and fitness, but may be in the beginning stages of your kettlebell program.
To begin, the base movement or lift of the kettlebell is known as the double-arm swing. This particular exercise incorporates about 75 to 85% of your working muscles and will yield a huge result within the scope of your training program. Because of this you benefit from a huge calorie burn, tremendous cardiovascular conditioning, and a big love affair with this different way of training!
To perform the double-arm swing you will want to make sure that you stand with your feet about shoulder width apart. Perform a proper squat and pick up the bell. From here you will want to execute a movement known as the hip snap. This is done by you flexing and extending at your hips and knees back and forth in a continuos fluent motion. As you do this your arms should be straight and your shoulders should be retracted. Throughout this movement allow the kettlebell to swing back and forth between your legs creating an arc that brings the bell up to your chest level. For starters, attempt to complete 20 to 30 reps with a moderately heavy bell for each set. You will quickly see how training with kettlebells is a whole new world of fitness!
The next drill I want to talk about is a more intense version of the double-arm swing. This drill is called a full range double-arm swing and is performed just like the normal swing with the exception that you allow the bell to build enough momentum to elevate all the way up to above your head! This adds immediate intensity to the drill being performed. Take your women's fitness and kettlebell training to new heights. Give these drills a try and feel free to email me to let me know about your progress. Ladies, train hard and train flawlessly!