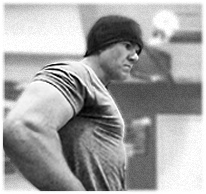 Kettlebells For Women – A Way to Swing the Pounds Away!
Ladies, the kettlebell is your best friend. As a strength and conditioning professional I promise you that kettlebell training is one of the most efficient ways that you can train your body for optimal fitness and to speed up the entire fat-loss process! I want to explain to you one of the most basic lifts involved in kettlebell training that you can use on a regular basis to achieve a super-fit body.
Kettlebell swings, or more specifically double-arm kettlebell swings, are one of the most basic kettlebell lifts. For you women this is a tremendous lift that incorporates hundreds of your working muscles and up to about 80% of your body's total effort. You can use this lift frequently and learn many other lifts with the kettlebell by making slight variations in this one. Its a building process.
To perform the double-arm kettlebell swing simply set the bell between your feet. Squat down to pick it up. Keep your arms straight and allow the bell to hang at your groin. From here you will want to perform the hip snap motion in order to create momentum with your body to swing the bell in an arc back and forth from between your legs up to your chest level. In order to perform the hip snap you will want to flex and extend at both your hips and knees in a smooth continuous motion. Don't perform a full squat when doing the hip snap. Instead only flex in a quarter squat stance to generate the full motion from your hips.
If you want to swing those pounds away then start this drill by swinging up to about a hundred repetitions with a moderately heavy bell. You will quickly see how effective this device can be. Train hard ladies and enjoy.