Identify Your Strength Needs…
by: Brandon Richey–Get Free Updates And Training Guides Here
Identify Your Strength Needs…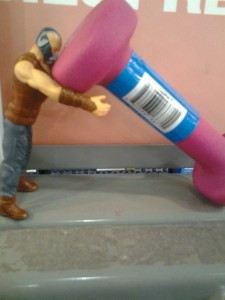 So there is an issue with many people trying to figure out what strength elements to incorporate into their training pretty much on a day to day basis. Whether you are a regular Joe or Jane, or you happen to be a competitive athlete today you've got to do a bit more than just roll into the gym to hammer out some bench press, crunches, and arm curls.
There is a time and place for these things, but if you're going to step up your strength training program then you've got to identify the needs of your training. In addition to this if you're going to incorporate some of those arm curls into your training program then make sure you don't do that shit in the squat rack. That's just asking for trouble!
Identifying Your Needs…
So what am I talking about in terms of identifying your strength training needs? Well this may seem as obvious as day and night, but to some it really is a mystery. Identifying your strength training needs means that you've got to be willing to admit your weaknesses and to work to correct those weaknesses. For instance, there have been many occasions when I'm performing an assessment on a newbie and realize rather immediately that either he or she have trouble in the squat, or stand with an overly developed forward slouching posture.
Now I just threw these in as common examples of problems that affect people and hinder their mobility on a day to day basis. Generally there can be a few reasons as to the cause of these issues, but the most common involve sitting. Sitting is like the new smoking. I know it's kind of crazy but if you think about it sitting for hours on end is only training your body for the act of sitting. Makes sense, right?
Make sure you order your bells here to start addressing those strength training needs of yours!
Now to carry this into the topic at hand it really boils down to the fact that a sitting posture generally is not a good one. As a result people lack in core stability, lack a more natural neutral spine, have tight hips, have a weak posterior chain, and as a result they have deficiencies when performing basic human movements. It just really boils down to them lacking strength in the right areas which is why they have the problems they are dealing with. We all deal with some level of these issues…me included.
In addition to this when many misguided or unguided trainees enter the gym or weight room they want to go and follow a program that is generally just related to what "they want" rather than what "they need." If you are one of these folks then you've got to be willing to be honest with yourself if you ever expect to improve any physical ailments, or lack of performance that you may be facing with your own body.
Strength should be the primary focus. For instance, today many impressionable people may see an article in Men's Health or some other muscle magazine and want to pack on muscle like the guy or girl on the cover. This is very common and it's perfectly ok as long as they take the right approach. The problem is that they tend to want to follow the same 'ole bench press and curls prescription in order to do so. Bench pressing and curling are fine, but these alone are not going to provide you the performance, function, and aesthetic qualities you want in order to achieve that much desired physical appearance.
Here's how you can address that need for some serious abs!
People that tend to fall into this small trap generally want to focus on building muscular size, but do so in a less effective manner not understanding what lifts and exercises they can use to give them the desired size, strength, and a lean appearance they want. What good is size without the proper function and use of your body? If you're always battling with ailments and pain you are not training for your needs and in addition to this probably don't understand the difference between muscular size,strength, and how to vary intensity and volume. I elaborate a little more on this here below.
Now in that video you probably noticed I had a slip of the tongue when talking about bodybuilders tending to be more "isolateral" in nature. What I meant to say was "isolating." Sorry about that, but you get where I'm coming from. The point is that to put on size and strength you have to manipulate volume and intensity and you also have to incorporate more multi-joint movements rather than single joint movements.
In addition to this you have to implement the drills that address your needs. Yes, I know here we are back at the word "needs" again. Remember the common problems I pointed out in the beginning pertaining to a trainee struggling with the squat and having an overly developed forward slouching posture? Well a good start would be for this individual to work on the sound implementation of a deadlift and to readily practice getting into a sound squat position on a regular basis.
Here's one way you can address your need for speed!
Of course other exercises can be incorporated to strengthen the core and to help to improve the posture of the individual that is lacking in this and to correct other problematic areas. The key is to just make sure to live by the credo of smart training!
If you need any additional guidance and are into learning more about physical strategy in terms of your strength training program then make sure you get yourself a copy of my Brandon Richey's Unconventional Conventional Method To Strength ebook right here. It's a step by step approach to helping you train for your needs. (By the way I'm giving away a bunch of NEW stuff with it now!)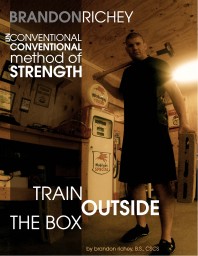 If you have experienced problems of your own and have overcome them through smart adjustments due to identifying your own strength training needs then feel free to share them with the rest of us in the comment box below this post. Remember that most anyone can train hard, but only the best train smart my friend. Start your smart strength training here today!
Related Articles: 
The Mind/Body Connection And Your Joint Function…
Stability vs. Isolation In Strength Training Exercises…
Which Training Program Is The Best? Crossfit? The 5×5 Method? Something Else? 
Identify Your Strength Needs…